Religion and Psychiatry: Beyond Boundaries
ISBN: 978-0-470-69471-8
Hardcover
680 pages
January 2010
US $230.00

Add to Cart
This price is valid for United States. Change location to view local pricing and availability.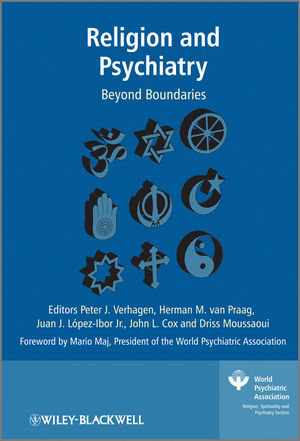 Other Available Formats:
E-book
List of Contributors
Foreword
Preface
General Introduction: Religion and Science
Peter J. Verhagen
PART 1 PROLEGOMENA (FIRST ISSUES): HISTORY, PHILOSOPHY, SCIENCE AND CULTURE
Introduction
1.1 Evil in Historical Perspective: At the Intersection of Religion and Psychiatry
Michael H. Stone
1.2 Linguistic Analysis and Values-Based Practice: One Way of Getting Started with Some Kinds of Philosophical Problems at the Interface Between Psychiatry and Religion
Bill (K.W.M.) Fulford
1.3 Science and Transcendence in Psychopathology; Lessons from Existentialism
Juan J. López-Ibor Jr. & María Inés López-Ibor Alcocer
1.4 Psychiatry of the Whole Person – Contribution of Spirituality in form of Mystic (Sufi) Thinking
Ahmad Mohit
PART 2 MAIN ISSUES: THE INTERFACE BETWEEN PSYCHIATRY, MENTAL HEALTH AND MAJOR RELIGIOUS TRADITIONS
Introduction 87
2.1 Judaism and Psychiatry
Ayala Uri, Noa Navot & Alan Apter
2.2 Christianity and Psychiatry
John R. Peteet
2.3 Religion and Mental Health in Islam
Ahmed Okasha
2.4 Psychiatry and African Religion
Frank G. Njenga, Anna Nguithi & Sam G. Gatere
2.5 Hinduism and Mental Health
R. Srinivasa Murthy
2.6 Buddhism and Psychotherapy in Japan
Naotaka Shinfuku & Kenji Kitanishi
2.7 Psychiatry and Theravada Buddhism
Pichet Udomratn
PART 3 CORE ISSUES: RELIGION AND PSYCHOPATHOLOGY
Introduction 209
3.1 Religious Experience and Psychopathology
Juan J. López-Ibor Jr. & María Inés López-Ibor Alcocer
3.2 God's Champions and Adversaries: About the Borders between Normal and Abnormal Religiosity
Herman M. van Praag
3.3 Religion and Psychopathology: Psychosis and Depression
Andrew C. P. Sims
3.4 Obsessive Compulsive Disorder and Religion: A Reconnaissance
Harold J. G. M. van Megen, Dianne A. den Boer-Wolters & Peter J. Verhagen
3.5 Religion and Psychoanalysis: Past and Present
Allan M. Josephson, Armand Nicholi Jr. & Allan Tasman
3.6 On the Psychology of Religious Fundamentalism
John, Lord Alderdice
3.7 Measurement at the Interface of Psychiatry and Religion:
Issues and Existing Measures
Peter C. Hill & Carissa Dwiwardani
PART 4 RESEARCH ISSUES
Introduction
4.1 Religion and Mental Health: What Do You Mean When You Say 'Religion'? What Do You Mean When You Say 'Mental Health'?
Charles H. Hackney
4.2 A Moment of Anger, a Lifetime of Favor: Image of God, Personality, and Orthodox Religiosity
Elisabeth H.M. Eurelings-Bontekoe & Hanneke Schaap-Jonker
4.3 The Relationship Between an Orthodox Protestant Upbringing and Current Orthodox Protestant Adherence, DSM-IV Axis II B Cluster Personality Disorders and Structural Borderline Personality Organization
Elisabeth H.M. Eurelings-Bontekoe & Patrick Luyten
4.4 When Religion Goes Awry: Religious Risk Factors for Poorer Health and Well-Being
Hisham Abu Raiya, Kenneth I. Pargament & Gina Magyar-Russell
4.5 Religious Practice and Mental Health: a Moroccan Experience
Driss Moussaoui & Nadia Kadri
4.6 Religious and Spiritual Considerations in Psychiatric Diagnosis: Considerations for the DSM-V
David Lukoff, C. Robert Cloninger, Marc Galanter, David M. Gellerman, Linda Glickman, Harold G. Koenig, Francis G. Lu, William E. Narrow, John R. Peteet, Samuel B. Thielman & C. Paul Yang
PART 5 INTERDISCIPLINARY ISSUES: PSYCHOTHERAPY, PASTORAL CARE AND MEANING GIVING
Introduction
5.1 Gods of the Horizon: The Therapist's and the Patient's Religious Representations and the Inevitability of Countertransference
Moshe Halevi Spero
5.2 Assumptions About Pastoral Care, Spirituality and Mental Health
Peter J. Verhagen & Adamantios G. Avgoustidis
5.3 Coming to Terms with Loss in Schizophrenia – The Search for Meaning
Hanneke (J.K.) Muthert
PART 6 CONTROVERSIAL ISSUES: RELIGION AND THE BRAIN
Introduction
6.1 The Limits of Scientific Understanding and their Relevance for the Role of Religion in Psychiatry
Robert H. Belmaker
6.2 Seat of the Divine: A Biological 'Proof of God's Existence'?
Herman M. van Praag
6.3 Neuro-Theology: Demasqué of Religions
Dick F. Swaab & Wilma T.P. Verweij
PART 7 TRAINING ISSUES: RESIDENCY TRAINING AND CONTINUOUS EDUCATION
Introduction
7.1 Religion and the Training of Psychotherapists
Allan M. Josephson, John R. Peteet & Allan Tasman
7.2 Multicultural Education and Training in Religion and Spirituality
Peter J. Verhagen & John L. Cox
Epilogue: Proposal for a World Psychiatric Association Consensus or Position Statement on Spirituality and Religion in Psychiatry
Peter J. Verhagen & Christopher C.H. Cook
Notes on Contributors
Index of Names
Index of Subjects