E-book
Assessment and Management of Emotional and Psychosocial Reactions to Brain Damage and Aphasia
ISBN: 978-0-470-69869-3
122 pages
April 2008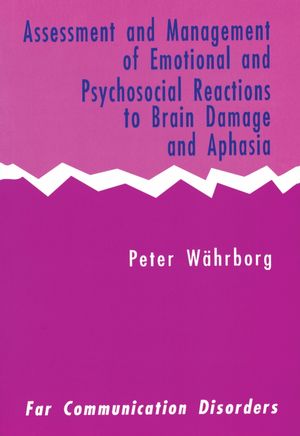 Aims to provide an accessible and practical guide to the assessment, differentiation and clinical management of the emotional and psychosocial problems of aphasic and non-aphasic brain damaged individuals and their families. Current clinical approaches are also considered.
See More
Preface.
Chapter 1 Introduction.
Chapter 2 Aphasia and Behaviour.
Chapter 3 Aphasia and the Family
Chapter 4 Towards a Model of Psychological Reactions to Brain Damage and Aphasia.
Chapter 5 The Assessment of Emotional and Psychosocial Disorder in Aphasic Individuals and their Families.
Chapter 6 Management and Treatment of Psycholgical and Social Problems in Aphasics and their Families.
Chapter 7 Long-Term Evolution of Psychsocial and Emotional State.
References.
Index.
See More
Peter Wahrborg is Psychomedical Consultant at the University of Gotenborg, Sweden. He has published widely in the area of psychosocial adjustment and psychothrapy for aphasic adults, and has an international reputation in the field.
See More