Switching to a Mac - No Problem!
ISBN: 978-0-470-71015-9
344 pages
August 2010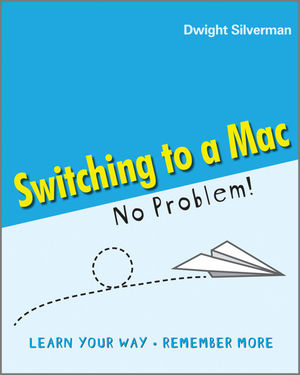 Switch from a PC to Mac with no problem!
Experienced using Microsoft but now switching over to a Mac? No Problem! With this book you can build upon the knowledge you have
In a rush to get going on a Mac? No Problem! For a quick path, you can choose to read only the highlighted text for just what you need to know
Prefer to take notes while you learn? No Problem! We've sprinkled loads of notes and quick tips throughout the book, and left you plenty of room to take your own
Need a detailed step-by-step guide to switching from Microsoft to Apple software? No Problem! Combine all the learning paths for a comprehensive workshop   
See More
How to use this book.
1. Apples and oranges Windows PCs.
Step through the setup process.
Load and unload at the Dock.
What's on the Menu?
Where did the window controls go?
Quitting's easy when you know how.
2. Make you new Mac… YOUR Mac.
Systems Preferences is the new Control Panel.
Personalize your desktop.
Set up a screen saver.
Change the sound effects.
3. Make your Mac more Windows-like.
Enable right-click-ability.
Tweak the Finder.
Get back your favorite apps.
Watch Windows Media video.
Choose your program.
Choose your window.
4. Transfer files from a PC to your Mac.
Get your files ready to move.
Have a Genius transfer your files.
Transfer your files with an external drive.
Use your home network to transfer your files.
5. Settle in to your new Home.
Explore your new Home.
Organize your files.
Add your own folders.
Actions and storage on the Dock.
Find your stuff.
6. Hop aboard the Time Machine.
Set up Time Machine if you clicked "Decide Later" in chapter 4.
Set up Time Machine on a new external drive.
Go back in time.
Control time.
7. Do more with your e-mail.
Create your account.
Transfer your e-mail.
Get (all or just some) new e-mail.
Mail helps you do more than just red your e-mail.
Send e-mail through an alternate mail server.
Organize your e-mail.
Train Mail to kill spam.
Set some rules.
8. Manage your life with Address Book and iCal.
Import your contacts from a Windows PC.
Add contacts from Gmail or Yahoo.
Add contacts to Address Book.
Group your contacts.
Add events to iCal.
Add a calendar.
Calendar groups.
9. Manage music and more with iTunes.
Is iTunes for Mac like iTunes for Windows?
Import you music.
Import music manually.
Convert CDs to digital music.
Change your view.
Buy music and video from the iTunes Store.
Stay organized with Playlists.
Your personal Genius.
Take your music with you.
10. Surf with Safari.
Customize Safari.
What's Safari doing?
Choose your Home page.
Organize the Web.
Take charge of your bookmarks and history.
Browse privately.
Save Web Clips to the Dashboard.
11. Organize and manage your pictures in iPhoto.
Import and organize photos.
Fix your photos.
Share your photos.
12. You can be a GarageBand rock star.
Enter the Garage.
Make Magic music.
Take some music lessons.
Get Loopy with GarageBand.
13. Light! Camera! iMovie!
Roll the iMovie titles.
Import video from your Mac.
Import video from a camera.
Import video from a webcam.
Organize your video.
Make a movie.
Share your movies.
14. A Front Row seat.
Watch movies.
Watch TV shows.
Watch DVDs.
Listen to music.
View your photos.
15. Build an iWeb site.
Build a website.
Choose a template.
Add a photo page.
Blog in iWeb.
Publish your iWeb site.
16. Talk via text, audio, and video with iChat.
Set up iChat.
Text chats.
Video chats.
Audio chats.
Share a screen.
Share more in iChat Theater.
Send files with iChat.
17. Stay secure on the Mac.
Your Mac and malware.
Turn on the firewall.
Keep our kids safe (and your Mac safe from kids!).
Create and keep strong passwords.
18. Your Windows strategy.
Run Windows on your Mac.
Mac-compatible software.
Index. 
See More
Dwight Silverman
is veteran computer columnist, technology blogger, and online editor for the Houston Chronicle and its website,
chron.com
. He also co-hosts
Technology Bytes
, a weekly computer help call-in show on KPFT-FM in Houston. He's also a frequent guest on the popular
This Week in Tech
podcast with Leo Laporte.
Dwight has been a tech junkie since the age of 5, when he became notorious for compulsively pushing any button he could reach. He's been writing about personal technology since the mid-1980s, and considers himself fluent in both Mac and Windows. Follow him on Twitter at twitter.com/dsilverman, and read his blog at blogs.chron.com/techblog. This is his third book.
See More