Textbook
International Management Behavior: Leading with a Global Mindset, 6th Edition
ISBN: 978-0-470-71412-6
422 pages
August 2009, ©2009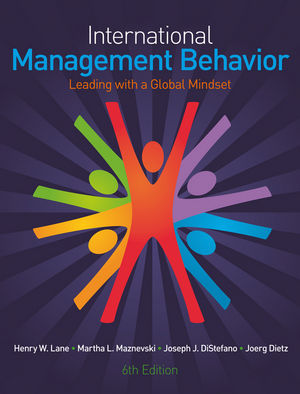 Now in its sixth edition,
International Management Behavior
continues to help students develop the knowledge, perspective, and skills they need in order to conduct global business successfully. The combination of well-chosen, new and classic cases, as well as a completely revised text, provides excellent exposure to real-life management issues and a field-tested framework for understanding cross-cultural dynamics. Elimination of the readings has provided for greater flexibility and customization.
For the sixth edition, the structure of the book has been totally revised and the text thoroughly updated to Reflect the authors' recent experiences. Material in the original chapters has been expanded and there are new chapters on managing change in global organizations and one on managing global teams and networks. The concept of the global mindset is used as the integrating theme that establishes a framework for the book making it applicable at both individual/team and organization levels. This book continues its tradition and orientation about managing people from different cultures and managing global organizations to get effective results.
"This is much more than a new edition. It is a huge step forward. The strategy and culture chapters get in much closer to the small, focused details that make such a difference in implementation and that are so difficult to teach. Separating out personal integrity and corporate citizenship allows for a close examination of critical issues that are all too often glossed over. The expanded explanation of the MBI model works well."
Jeanne McNett, Assumption College
See More
Acknowledgments
Introduction
Chapter 1 The Global Manager
Chapter 2 Intercultural Effectiveness in International Management
Chapter 3 The MBI Model for High Performance
Chapter 4 Managing Global Teams and Networks
Case 1 Monsanto Europe (A)
Case 2 Johannes Van Den Bosch Sends an Email
Case 3 Disneyland Resort Paris: Mickey Goes to Europe
Case 4 Charles Foster Sends an Email (A)
Case 5 The Leo Burnett Company Ltd.: Virtual Team Management
Chapter 5 Executing Global Strategy
Chapter 6 Selecting and Developing Global Managers
Chapter 7 Managing Change in Global Organizations
Case 6 Blue Ridge Spain
Case 7 Global Multi-products Chile
Case 8 Managing Performance At Haier (A)
Case 9 Ellen Moore (A): Living And Working In Korea
Chapter 8 Competing with Integrity in Global Business: Personal Integrity
Chapter 9 Competing with Integrity in Global Business: Corporate Citizenship
Case 10 NES China: Business Ethics (A)
Case 11 Arla Foods And The Cartoon Crisis (A)
Case 12 Credit Suisse: The Christian Values Fund
Index
See More
HENRY W. LANE
is the Darla and Frederick Brodsky Trustee Professor in Global Business and Director of the Institute of Global Innovation Management at Northeastern University; and Professor Emeritus, Richard Ivey School of Business, University of Western Ontario.
MARTHA L. MAZNEVSKI is Professor of Organizational Behavior and International Management, Director of the MBA Program, IMD International Institute for Management Development.
JOERG DIETZ is Professor of Organizational Behavior, University of Lausanne.
JOSEPH J. DISTEFANO is Professor Emeritus at both The Richard Ivey School of Business, The University of Western Ontario and IMD International Institute for Management Development.
See More
The
Sixth Edition
of this popular international management text has been thoroughly revised to provide students with a concise introduction to the major management frameworks they need to understand
The cases and readings have been replaced by links and 'suggested reading' guides, allowing lecturers to use the text with their own selections from the literature
The text remains rooted in current real-world management issues across a range of cultures and industry sectors
Web-based teaching materials have been extensively upgraded to include powerpoint slides; student questions and answers; and supplementary cases
See More
Learn more about