Cell Death
ISBN: 978-0-470-71573-4
316 pages
March 2010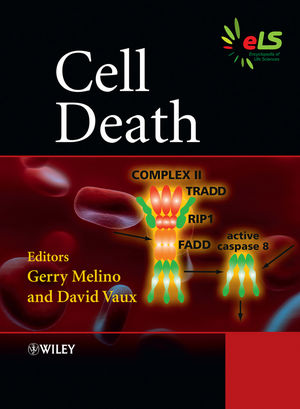 This book on cell death contains 29 self-contained, peer-reviewed articles written by leading scientists in each field. It features overview articles aimed at undergraduates and non-specialists, which present basic information and provide entry into the following advanced articles. These advanced articles are written for postgraduate students and research workers, containing detailed information and key references allowing the reader to investigate a specific area in more depth. The book is an essential resource for educational purposes as well as a reference work for experienced researchers in the field. The articles will also be available electronically as part of the acclaimed
Encyclopedia of Life Sciences (ELS)
.
Key features:
Provides a comprehensive overview on the research of programmed cell death.
Edited by leaders in the field.
Clearly written and illustrated articles.
Full colour throughout.
A spin-on to the acclaimed reference work, the Encyclopedia of Life Science (ELS).
Combines introductory information with coverage of the latest discoveries in the field.
Features overview level articles for advanced students or people new to a topic and more advanced articles for those requiring more detailed information.
Serves as a reference work for advanced students as well as researchers in this field.
Ideal library purchase for science, medical, and technology libraries in academia, government, and industry; medical libraries; networks and consortia covering these markets.
See More
Contributors.
Preface.
The Siren's Song: This Death That Makes Life Live (Gerry Melino, Richard A Knight and Jean-Claude Ameisen).
The Origin and Evolution of Programmed Cell Death (Jean Claude Ameisen).
Cell Death in C. elegans (Ataman Sendoel and Michael O Hengartner).
Caspases and Cell Death (Lorraine D Hernandez, Caroline Houde, Maarten Hoek, Brent Butts, Donald W Nicholson and Huseyin Mehmet).
The Apoptosome: The Executioner of Mitochondria-mediated Apoptosis (Elisabetta Ferraro and Francesco Cecconi).
Caspases, Substrates and Sequential Activation (John G Walsh and Seamus J Martin).
Dismantling the Apoptotic Cell (Paula Deming and Sally Kornbluth).
The BCL-2 Family Proteins – Key Regulators and Effectors of Apoptosis (David L Vaux).
BH3-only Proteins (Lina Happo, Andreas Strasser and Clare L Scott).
Mitochondrial Outer Membrane Permeabilization (Melissa J Parsons and Douglas R Green).
Mitochondria Fusion and Fission (Giovanni Benard, Guihong Peng and Mariusz Karbowski).
Death Receptors (Peter H Krammer and Inna N Lavrik).
Death Receptors at the Molecular Level: Therapeutic Implications (Marion MacFarlane).
Death Receptor-induced Necroptosis (Wim Declercq, Franky Van Herreweghe, Tom Vanden Berghe and Peter Vandenabeele).
Inhibitor of Apoptosis (IAP) and BIR-containing Proteins (David L Vaux).
Structures, Domains and Functions in Cell Death (DD, DED, CARD, PYD) (Hao Wu and Yu-Chih Lo).
Structure and Function of IAP and Bcl-2 Proteins (Mark G Hinds, Peter D Mace and Catherine L Day).
Engulfment of Apoptotic Cells and its Physiological Roles (Rikinari Hanayama, Masanori Miyanishi, Hiroshi Yamaguchi, Jun Suzuki and Shigekazu Nagata).
Autophagy (María Isabel Colombo and Hans-Uwe Simon).
Autophagy in Nonmammalian Systems (Jahda H Hill and Eric H Baehrecke).
Apoptosis: Regulatory Genes and Disease (James E Vince and John Silke).
Caspases in Inflammation and Immunity (Philippe M LeBlanc and Maya Saleh).
Immunity, Granzymes and Cell Killing (Nigel J Waterhouse, Olivia Susanto, Karin A Sedelies and Joseph A Trapani).
P53 and Cell Death (Kamil Wolyniec, Sue Haupt and Ygal Haupt).
Cornification of the Skin: A Non-apoptotic Cell Death Mechanism (E Candi, RA Knight and G Melino).
Apoptosis: Inherited Disorders (Helen C Su and Michael J Lenardo).
From Reactive Oxygen and Nitrogen Species to Therapy (Scott R McKercher, Tomohiro Nakamura and Stuart A Lipton).
Microbial Inhibitors of Apoptosis (Georg Häcker).
Drug Discovery in Apoptosis (Tom O'Brien and Vishva M Dixit).
Subject Index.
See More
"The book of Melino and Vaux is definitively a tremendous effort to summarize the vast amount of knowledge. It is divided into 29 chapters, which are all written by the leading experts in the field. Chapters range from basic biochemical mechanisms to therapy, from apoptosis to autophagy and from lower organisms to humans, and as such give a great overview of the research area." (Cell Death and Differentiation, December 2010)

"Each chapter contains novel information ensuring that this book stands out among the numerous others centered on cell death and constitutes an extremely useful addition." (Cell Death and Disease, December 2010)
See More