Sustainable Development in Practice: Case Studies for Engineers and Scientists, 2nd Edition
ISBN: 978-0-470-71871-1
536 pages
February 2011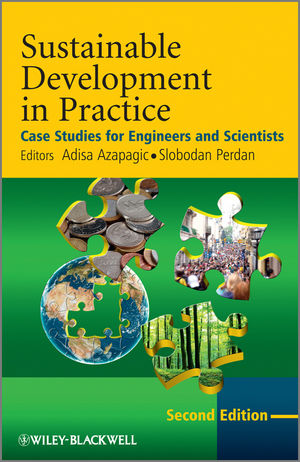 Sustainable Development in Practice: Case Studies for Engineers and Scientists, Second Edition
explores the concept of sustainable development and its implications for science and engineering. It looks at how sustainability criteria can be combined with traditional scientific and engineering considerations to design and operate industrial systems in a more sustainable manner. Taking a life cycle approach to addressing economic, environmental and social issues, the book presents a series of new practical case studies drawn from a range of sectors, including mining, energy, food, buildings, transport, waste, and health.
Written in an accessible style, the book opens with a general introduction to the concept of sustainable development and explores its practical implications for technical experts. Recognising that practical application of sustainable development depends on the context, the second part of the book is devoted to case studies. The case studies explore scientific and technical aspects alongside relevant environmental economic and social issues.
The key features of this completely revised and updated second edition include:
Twelve new chapters, including the case studies on nuclear energy, biofuels, aviation, buildings, urban transport, food, sanitation and health.
Six completely revised chapters
Coverage of a wide range of sustainability issues in both developed and developing countries
Integration of scientific and technical aspects with economic, environmental and social considerations
Discussion of policy implications
Communication with the non-engaging and non-scientific audience
Considered essential reading for all engineers and scientists concerned with sustainable development, Sustainable Development in Practice: Case Studies for Engineers and Scientists, Second Edition also provides key reading and learning materials for undergraduate and postgraduate science and engineering students.
See More
About the Editors ix
List of Contributors xi
Preface xiii
Part 1
1 The Concept of Sustainable Development and its Practical Implications 3
Slobodan Perdan
2 Measuring Sustainable Development: An Overview 26
Slobodan Perdan and Adisa Azapagic
3 Assessing Environmental Sustainability: Life Cycle Thinking and Life Cycle Assessment 56
Adisa Azapagic
Part 2
4 Translating the Principles of Sustainable Development into Business Practice: An Application in the Mining and Minerals Sector 83
Adisa Azapagic and Slobodan Perdan
5 Climate Change and Policy: The Case of Germany 117
Wolfram Krewitt and Hans Mu¨ller-Steinhagen
6 Sustainability Assessment of Biofuels 142
Adisa Azapagic and Heinz Stichnothe
7 Scenario Building and Uncertainties: Options for Energy Sources 170
Richard Darton
8 Fuel Cells in Stationary Applications: Energy for the Future? 189
Martin Pehnt
9 Sustainability of Nuclear Power 211
Adisa Azapagic and Slobodan Perdan
10 Municipal Solid Waste Management: Recovering Energy from Waste 261
Adisa Azapagic
11 Sustainability Issues in Food Provisioning Systems 326
Adisa Azapagic, Heinz Stichnothe and Namy Espinoza-Orias
12 Providing Sustainable Sanitation 348
Richard Fenner and Amparo Flores
13 Sustainable Process Design: The Case of Vinyl Chloride Monomer (VCM) 374
Adisa Azapagic
14 Urban Sustainability: The Case of Transport 420
Slobodan Perdan and Adisa Azapagic
15 Aviation and its Response to Environmental Pressure 449
Alice Bows and Kevin Anderson
16 Health Impact Assessment of Urban Pollution 467
Zaid Chalabi and Tony Fletcher
17 Social and Ethical Dimensions of Sustainable Development: Mining in Kakadu National Park 483
Slobodan Perdan
Index 511
See More