Succeeding at Assessment Centres For Dummies, UK Edition
ISBN: 978-0-470-72101-8
320 pages
January 2012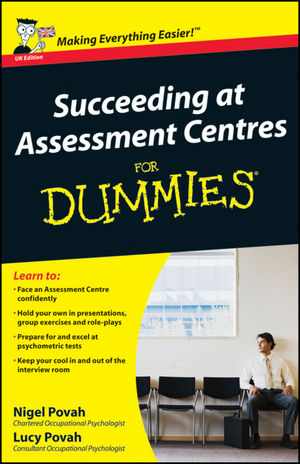 It's becoming more common for organisations to use assessment centres as part of their recruitment drive. So if you've recently been invited to one, and you're not sure what to expect or how to excel, then this is the book for you. You'll be guided through how each activity is conducted and how to prepare for each part of the selection process. You'll find expert advice on how to shine in every activity - and get the career you want.
Succeeding at Assessment Centres For Dummies covers:
Standing Out in Group Exercises
Impressing in Oral Presentations
Achieving in Analysis Exercises
Performing in Planning and Scheduling Exercises
Perfecting Your Approach to Psychometrics
See More
Introduction 1
Part I: Introducing Assessment Centres 5
Chapter 1: Demystifying Assessment Centres 7
Chapter 2: How an Assessment Centre Works 27
Chapter 3: Maximising Your Chances of Success 47
Part II: Mastering Assessment Centre Exercises 61
Chapter 4: Standing Out in Group Exercises 63
Chapter 5: Impressing in Oral Presentations 81
Chapter 6: Starring in Role-Plays 99
Chapter 7: Shining in Fact-Finding Exercises 119
Chapter 8: Achieving in Analysis Exercises 131
Chapter 9: Performing in Planning and Scheduling Exercises 145
Chapter 10: Managing In-Basket or Inbox Exercises 157
Part III: Excelling at Non-Exercise Assessment Centre Activities 175
Chapter 11: Responding Effectively in Interviews 177
Chapter 12: Perfecting Your Approach to Psychometric Tests 199
Chapter 13: Tackling Other Activities 217
Chapter 14: Learning from Attending an Assessment Centre 233
Part IV: The Part of Tens 255
Chapter 15: Ten Ways to Impress the Assessors 257
Chapter 16: Ten Ways of Behaving Effectively 265
Chapter 17: Ten Tips for Achieving Peak Performance 273
Index 279
See More
Nigel Povah
is the Managing Director of A&DC, a practice specialising in assessment methods and developing people's potential at work. He is a leading expert in the Assessment Centre field.
Lucy Povah is a Senior Consultant at AC&DC and has a Master's degree in Occupational Psychology.
See More