E-book
Leading a Learning Revolution: The Story Behind Defense Acquisition University's Reinvention of Training
ISBN: 978-0-470-73058-4
352 pages
March 2010, Pfeiffer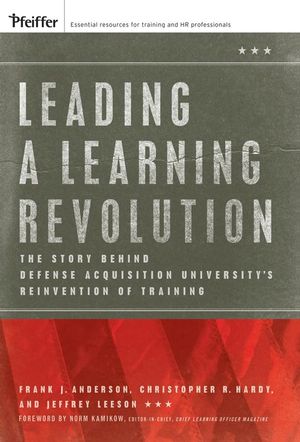 Leading a Learning Revolution tells the compelling story of a learning revolution that took place within the U.S. Department of Defense. Written by practitioners who actually walked the walk, this account of the creation of Defense Acquisition University (DAU) provides a clear blueprint that others can follow. It shares, in detail, the best practices they developed, so that the thousands of training organizations worldwide striving to create premier corporate universities can catapult forward.
Offering an insiderÕs look at the process, the authors clearly explain how they transformed an outdated training provider into a world-class university. Step-by-step the book outlines the enduring principles that were pivotal to Defense Acquisition UniversityÕs success and describes the environment, early victories, current methods, and subsequent results. The authors discuss how to establish a mission and vision, develop a performance-based strategic planning process, and tackle change initiative. They also explain the development and implementation of web-enabled learning architecture and reveal how to effectively measure and evaluate performance. In addition, the authors present strategies for assuring continual improvement and organizational growth. With this book, any organization can tap into DAUÕs best practices and winning strategies for improving corporate learning.
See More
Foreword.
Acknowledgments.
About the Authors.
Introduction.
1. Defense Acquisition University.
The Birth of DAU.
A Collection of Schoolhouses.
Redesigning and Retooling DAU.
Transformation Snapshot.
Today's DAU.
2. Organizational Alignment.
Mission Focus.
Understanding Our Role.
The DAU Environment.
Aligning Upward.
Aligning Downward.
3.Seeking Solutions.
Reading Materials.
Consultants.
Conferences and Symposia.
Benchmarking.
Strategic Partnerships.
4. Set the Direction.
Get in the Game.
Strategic Planning.
A Living, Dynamic Process.
Early Victories.
5. Establish a Learning Architecture.
Simple but Powerful.
The Performance Learning Model.
Implementing the PLM.
Optimizing the PLM.
6. Develop a Smart Evaluation Strategy.
Why We Measure.
What We Measure.
How We Measure.
How We use Data.
7. Never Stop Improving.
More, Faster, Better.
Continual Improvement.
Sector Leadership.
Moving to the Future.
8. The Future.
The Future Is Now.
Future Learning.
Intellectual Capital Valuation.
Appendix A: DAU Strategic Partners.
Appendix B: DAU Performance Plan.
Appendix C: DAU Annual Performance Report.
Appendix D: Example Award Application.
Index.
See More
Frank J. Anderson (pictured left), is president of the Defense Acquisition University (DAU). Under his leadership, DAU was selected the top learning and development organization in the United States in 2004, receiving the American Society for Training and Development (ASTD) Best Award, recognizing organizations that demonstrate enterprise-wide success or achievement. Anderson also was selected by his peers as the 2004 Chief Learning Officer of the Year, and again in 2006 as Leader of the Year during the Corporate University Best-in-Class Awards.
Christopher R. Hardy, Ph.D. (pictured right), is the strategic planner for the Defense Acquisition University. Prior to his current position, he also served as a strategic planner in private industry becoming a vice president, INNOLOG, Inc., a global supply chain logistics company, headquartered in McLean, Virginia.
Jeffrey Leeson is a professional writer and editor. He lives in New York City and can be contacted at jeffleeson@yahoo.com.
See More