The Global Airline Industry
ISBN: 978-0-470-74077-4
518 pages
May 2009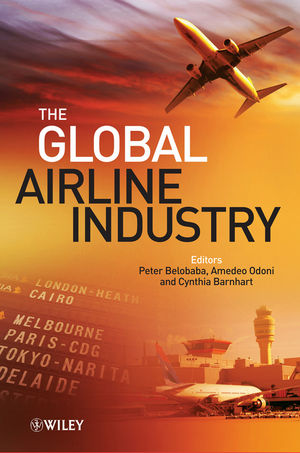 In today's rapidly changing air transport environment, the aviation professionals   require access to advanced and comprehensive knowledge, coupled with an in-depth understanding of the needs of the airline industry. Drawing on the editors' extensive experience with airline and air transport issues,
The Global Airline Industry
provides a definitive introduction to our air transportation system. Featuring contributors from 3 different continents, all affiliated to MIT's Global Airline Industry Program, this book's unique and holistic perspective is allied with detailed coverage of  
air transportation economics
airline planning and operations
industrial relations and human resource issues
aviation safety and security
aviation infrastructure and environmental impacts
airline pricing and distribution.
The Global Airline Industry is accompanied by a book companion website hosting databases with regular updates of airline & air transport related statistics and information as well as updates of the book material, housed at www.wiley.com/belobaba. It engenders a crucial understanding of the essential parameters within which the interfacing disciplines in the industry must operate that will benefit both students in air transportation/ aviation management degree programmes as well as professionals working in the industry.
See More
List of Contributors.
Series Preface.
Notes on Contributors.
Acknowledgements.
1 Introduction and Overview (Peter P. Belobaba and Amedeo Odoni).
1.1 Introduction: The Global Airline Industry.
1.2 Overview of Chapters.
References.
2 The International Institutional and Regulatory Environment (Amedeo Odoni).
2.1 Introduction.
2.2 Background on the International Regulatory Environment.
2.3 Airline Privatization and International Economic Regulation.
2.4 Airports.
2.5 Air Traffic Management.
2.6 Key Organizations and Their Roles.
2.7 Summary and Conclusions.
References.
3 Overview of Airline Economics, Markets and Demand (Peter P. Belobaba).
3.1 Airline Terminology and Definitions.
3.2 Air Transportation Markets.
3.3 Origin–Destination Market Demand.
3.4 Air Travel Demand Models.
3.5 Airline Competition and Market Share.
3.6 Chapter Summary.
References.
4 Fundamentals of Pricing and Revenue Management (Peter P. Belobaba).
4.1 Airline Prices and O-D Markets.
4.2 Airline Differential Pricing.
4.3 Airline Revenue Management.
References.
5 Airline Operating Costs and Measures of Productivity (Peter P. Belobaba).
5.1 Airline Cost Categorization.
5.2 Operating Expense Comparisons.
5.3 Comparisons of Airline Unit Costs.
5.4 Measures of Airline Productivity.
References.
6 The Airline Planning Process (Peter P. Belobaba).
6.1 Fleet Planning.
6.2 Route Planning.
6.3 Airline Schedule Development.
6.4 The Future: Integrated Airline Planning.
References.
7 Airline Schedule Optimization (Cynthia Barnhart).
7.1 Schedule Optimization Problems.
7.2 Fleet Assignment.
7.3 Schedule Design Optimization.
7.4 Crew Scheduling.
7.5 Aircraft Maintenance Routing and Crew Pairing Optimization.
7.6 Future Directions for Schedule Optimization.
References.
8 Airline Flight Operations (Alan H. Midkiff, R. John Hansman and Tom G. Reynolds).
8.1 Introduction.
8.2 Regulation and Scheduling.
8.3 Flight Crew Activities During a Typical Flight.
8.4 Summary.
8.5 Appendix: List of Acronyms.
References.
9 Irregular Operations: Schedule Recovery and Robustness (Cynthia Barnhart).
9.1 Introduction.
9.2 Irregular Operations.
9.3 Robust Airline Scheduling.
9.4 Directions for Ongoing and Future Work on Schedule Recovery from Irregular Operations.
References.
10 Labor Relations and Human Resource Management in the Airline Industry (Jody Hoffer Gittell, Andrew von Nordenflycht, Thomas A. Kochan, Robert McKersie and Greg J. Bamber).
10.1 Alternative Strategies for the Employment Relationship.
10.2 Labor Relations in the US Airline Industry.
10.3 Labor Relations in the Airline Industry in Other Countries.
10.4 Human Resource Management at Airlines.
10.5 Conclusions.
References.
11 Aviation Safety and Security (Arnold Barnett).
11.1 Safety.
11.2 Security.
References.
12 Airports (Amedeo Odoni).
12.1 Introduction.
12.2 General Background.
12.3 Physical Characteristics.
12.4 Capacity, Delays and Demand Management.
12.5 Institutional, Organizational and Economic Characteristics.
References.
13 Air Traffic Control (R. John Hansman and Amedeo Odoni).
13.1 Introduction.
13.2 The Generic Elements of an ATC System.
13.3 Airspace and ATC Structure.
13.4 ATC Operations.
13.5 Standard Procedures.
13.6 Capacity Constraints.
13.7 Congestion and Air Traffic Management.
13.8 Future ATC Systems.
References.
14 Air Transport and the Environment (Karen Marais and Ian A. Waitz).
14.1 Introduction.
14.2 Limiting Aviation's Environmental Impact: The Role of Regulatory Bodies.
14.3 Airport Water Quality Control.
14.4 Noise.
14.5 Surface Air Quality.
14.6 Impact of Aviation on Climate.
14.7 Summary and Looking Forward.
References.
15 Information Technology in Airline Operations, Distribution and Passenger Processing (Peter P. Belobaba, William Swelbar and Cynthia Barnhart).
15.1 Information Technology in Airline Planning and Operations.
15.2 Airline Distribution Systems.
15.3 Distribution Costs and E-commerce Developments.
15.4 Innovations in Passenger Processing.
References.
16 Critical Issues and Prospects for the Global Airline Industry (William Swelbar and Peter P. Belobaba).
16.1 Evolution of US and Global Airline Markets.
16.2 Looking Ahead: Critical Challenges for the Global Airline Industry.
References.
Index.
See More
Airline Data Project
Visit the author's website to access additional information about the global airline industry.
The Global Airline Industry
Visit this site for databases with regular updates of airline & air transport related statistics and information as well as updates of the book material
See More
More in this series