Teaching Skills For Dummies
ISBN: 978-0-470-74084-2
380 pages
April 2009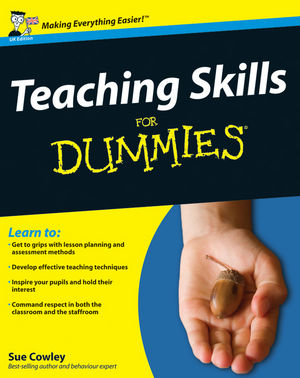 Being a "good teacher" is a difficult goal to achieve, being largely dependent on a huge variety of skills outside of the main curriculum.
Teaching Skills For Dummies
focuses on these 'soft' skills of teaching, from maintaining discipline to creating engaging lesson plans and monitoring performance. This essential guide promises to help teachers gain the respect of their pupils, manage potential confrontations and ultimately get the best out of both their careers and their students.
Teaching Skills For Dummies includes information on:
Developing Your Teaching Style
Teaching a Class
Managing a Class
Dealing with Different Kinds of People
Succeeding Beyond the Classroom
"Don't let the title fool you; this is an essential guide and resource for any aspiring teacher. Sue Cowley uses her experience and insight to provide a comprehensive and informative resource, packed with excellent advice and brilliant suggestions for making both teaching and learning effective. A must for any teacher's bookshelf!"
                                               - Peter Hadfield, Principal lecturer in Education, University of Bedfordshire
See More
Introduction 1
Part I: Developing Your Teaching Style 9
Chapter 1: Building Your Teaching Skills 11
Chapter 2: Understanding Teaching Styles – and Developing One That Works for You 27
Chapter 3: Making the Most of Your Communication Skills 43
Part II: Teaching a Class 59
Chapter 4: Preparing and Teaching High-Quality Lessons 61
Chapter 5: Getting (and Keeping) a Class Engaged 81
Chapter 6: Getting the Most Out of Your Students 97
Part III: Managing a Class 121
Chapter 7: Structuring Your Teaching and Your Teaching Space 123
Chapter 8: Building Better Behaviour 149
Chapter 9: Creating a Positive Classroom Atmosphere 171
Chapter 10: Handling Challenging Situations 189
Part IV: Dealing with Different Kinds of People 209
Chapter 11: Getting to Know Your Students 211
Chapter 12: Working as Part of a Team 237
Chapter 13: Building Bonds with Parents 257
Part V: Succeeding Beyond the Classroom 277
Chapter 14: Climbing the Paper Mountain 279
Chapter 15: Getting Involved in Extra-Curricular Activities 293
Chapter 16: Evaluating and Furthering Your Teaching Skills 305
Part VI: The Part of Tens 315
Chapter 17: Ten Great Ways to Engage with a Group 317
Chapter 18: Ten Key Strategies for Handling Difficult Behaviour 325
Chapter 19: Ten Tips for Dealing with Stress 333
Chapter 20: Ten Best Book and Website Resources for Teachers and Trainers 339
Index 343
See More
Sue Cowley is an experienced teacher and behaviour management expert and is the best-selling author of Getting the Buggers to Behave. Sue writes regular articles for a range of teacher publications and parenting magazines. She also provides training and consultancy for schools around the UK.
See More