Adult Epilepsy
ISBN: 978-0-470-74122-1
Hardcover
326 pages
April 2011
US $176.00

Add to Cart
This price is valid for United States. Change location to view local pricing and availability.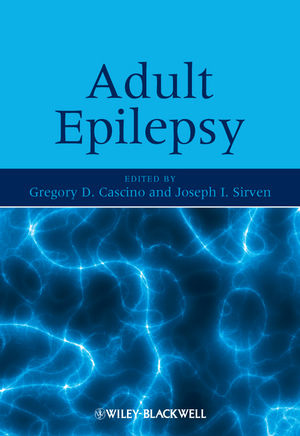 Other Available Formats:
E-book
List of contributors.
Preface.
1 Introduction: epilepsy (Gregory D. Cascino).
1.1 Epilepsy care: beginnings of observation and recognition.
1.2 Epilepsy care: initial understanding and treatment.
1.3 Epilepsy care: the Mayo Clinic.
Section 1 Pathophysiology and epidemiology of seizures and epilepsy.
2 Seizure and epilepsy syndromes classification (Jerry J. Shih).
2.1 Introduction.
2.2 The classification of epileptic seizures.
2.3 Conclusion.
3 Epidemiology of seizure disorders (Joseph I. Sirven).
3.1 Incidence and prevalence of epilepsy.
3.2 Incidence and prevalence of acute symptomatic seizures.
3.3 Looking beyond epidemiology: the state of epilepsy care in the United States.
3.4 Risk factors for epilepsy.
3.5 Conclusion.
Section 2 Diagnostic evaluation.
4 The role of routine scalp electroencephalography (Terrence D. Lagerlund and Gregory A. Worrell).
4.1 Introduction.
4.2 Clinical application of EEG.
4.3 Scalp EEG recording methods.
4.4 Activation procedures.
4.5 Interictal discharges correlated with epilepsy.
4.6 Epileptic syndromes and the role of EEG.
4.7 Conclusions.
5 Neuroimaging in epilepsy (Gregory D. Cascino).
5.1 Introduction.
5.2 Magnetic resonance imaging.
5.3 Functional neuroimaging.
6 Video-EEG monitoring data (Elson L. So).
6.1 Introduction.
6.2 Pre-monitoring evaluation and preparation.
6.3 Management during monitoring.
6.4 Discharge management.
Acknowledgments.
7 Etiologies of seizures (Katherine H. Noe and Korwyn Williams).
7.1 Introduction.
7.2 Acute symptomatic seizures.
7.3 Febrile seizures.
7.4 Unprovoked seizures.
8 The evaluation of nonepileptic paroxysmal events (Joseph F. Drazkowski and Matthew Hoerth).
8.1 Introduction.
8.2 Syncope.
8.3 Transient ischemic events (TIAs).
8.4 Transient global amnesia (TGA).
8.5 Movement disorders.
8.6 Sleep disorders.
8.7 Psychogenic nonepileptic seizures (PNESs).
8.8 Summary.
Section 3 Principles of medical management.
9 Mechanisms of action of antiepileptic drugs (Jeffrey W. Britton, Tarek M. Zakaria, and Eduardo Benarroch).
9.1 Introduction.
9.2 Treatment of epilepsy.
9.3 Excitatory mechanisms targeted by AEDs.
9.4 Inhibitory mechanisms targeted by AEDs.
9.5 Mechanism of action-specific drugs.
9.6 Conclusions.
10 Antiepileptic drugs: pharmacology, epilepsy indications, and selection (Jeffrey W. Britton and Julie Cunningham).
10.1 Introduction.
10.2 AED selection.
10.3 Generic AED therapy.
10.4 The AEDs: summary of clinical use, pharmacokinetics, and efficacy.
Section 4 Generalized epilepsies.
11 Idiopathic generalized epilepsies (Raj D. Sheth).
11.1 Overview of the generalized epilepsies.
11.2 Introduction.
11.3 Differentiating generalized seizures from partial seizures.
11.4 Clinical and EEG characteristics of generalized seizures.
11.5 Generalized epilepsy syndromes.
11.6 Treating generalized seizures.
11.7 Treatment algorithm.
11.8 Prognosis/outcomes.
12 Symptomatic generalized epilepsies (Katherine C. Nickels and Elaine Wirrell).
12.1 Introduction.
12.2 Infantile onset syndromes.
12.3 Childhood onset syndromes.
12.4 Symptomatic generalized epilepsy syndromes of known cause.
Section 5 Partial epilepsies.
13 Overview of diagnosis and medical treatment of partial epilepsies (Joseph I. Sirven).
13.1 Diagnosis and evaluation.
13.2 Electroencephalography (EEG).
13.3 Imaging.
13.4 Treatment and management.
13.5 Which patient should be treated with antiseizure drugs?
13.6 Evidence-based guidelines.
13.7 How well do seizure medications work?
13.8 Conclusion and summary.
14 Medial temporal lobe epilepsy (William O. Tatum IV).
14.1 Introduction.
14.2 Functional neuroanatomy of the temporal lobe.
14.3 Pathology.
14.4 Differential diagnosis.
14.5 Diagnosis.
14.6 Concluding statements.
15 Substrate-directed epilepsy (Gregory A. Worrell).
15.1 Intractable partial epilepsy.
15.2 Epilepsy surgery.
15.3 Localization of the epileptogenic zone.
15.4 Lesional MRI (or substrate-directed epilepsy syndromes).
15.5 Functional neuroimaging and intracranial EEG.
15.6 Symptomatic partial epilepsy.
15.7 Non-lesional MRI (non-substrate-directed partial epilepsy).
15.8 Non-lesional temporal lobe epilepsy (surgically remediable syndrome?)
15.9 Surgical advances.
16 Non-substrate-directed partial epilepsy (Korwyn Williams and Katherine H. Noe).
16.1 Introduction.
16.2 Genetic or IPE syndromes.
16.3 Medically refractory non-substrate-directed partial epilepsy.
16.4 Conclusions.
17 Surgical treatment (Cheolsu Shin).
17.1 Introduction.
17.2 The process of presurgical evaluation.
17.3 Intracranial monitoring.
17.4 Surgical procedures.
17.5 Conclusion.
Index.