E-book
Children's Speech Sound Disorders
ISBN: 978-0-470-74577-9
456 pages
April 2009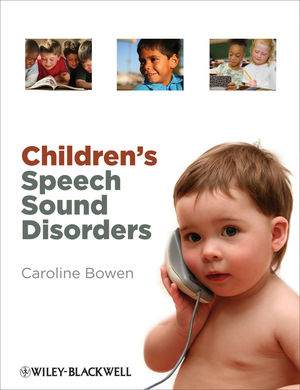 Caroline Bowen's
Children's Speech Sound Disorders
will be welcomed by experienced and novice clinicians, clinical educators, and students in the field of speech-language pathology/speech and language therapy for its practical, clinical focus. Drawing on the evidence base where possible, and making important theory to practice links overt, Bowen enhances her comprehensive account of assessment and clinical management of children with protracted or problematic speech development, with the addition of forty nine expert essays. These unique contributions are authored by fifty one internationally respected academicians, clinicians, researchers and thinkers representing a range of work settings, expertise, paradigms and theoretical orientations. In response to frequently asked questions about
their
work they address key theoretical, assessment, intervention, and service delivery issues.
See More
Introducton.
PART 1: A PRACTICAL UPDATE.
Chapter 1:The Evolution of Current Practices.
Chapter 2: Terminology, Classification, Description and Assessment.
Chapter 3: Special Populations.
Chapter 4: Intervention Approaches.
Chapter 5: 'Common', 'Best' and Evidence-Based Practice.
PART 2: SPEECH INTERVENTION IN EVERYDAY PRACTICE.
Chapter 6: Symptomatic Management of Moderate and Severe Disorders.
Chapter 7: Treatment Schedules, Levels and Options.
Chapter 8: Targets, Tips, Tricks and Insights.
Chapter 9: Working with PACT.
Chapter 10: Directions and Reflections.
Index.
See More
"I love this book. It is jam packed full of information on speech sound disorders; from providing an overview of where research and intervention has developed from and where we are 'at' in the evidence based world of providing speech intervention in everyday practice. But more than this, I like the tone of the book. It is written in an objective, no-nonsense, direct, clinician to clinician approach, assuming knowledge in the reader but does not marginalise or patronise skill level." (Small Talk Speech & Language Therapy Ltd , 1 March 2011)
See More