Mental Health Care in the College Community
ISBN: 978-0-470-74618-9
Paperback
396 pages
April 2010
US $71.95

Add to Cart
This price is valid for United States. Change location to view local pricing and availability.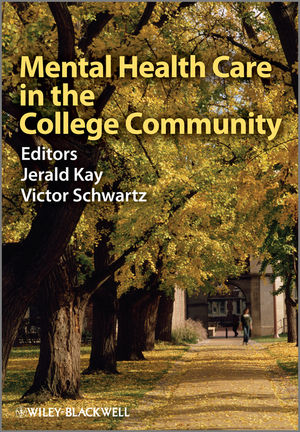 Other Available Formats:
E-book
"
Mental Health Care in the College Community
is a beautifully organized resource that is encyclopedic in its scope and detail. It offers administrators the why and how-to of creating state-of-the-art services that include crisis intervention, triage, psychotherapy, medication consultation, testing, referral, outreach, working with parents, and training psychiatry residents and psychology and social work interns. The authors are attuned to the specific needs of the college environment, among the most pressing of which is timeliness"
Read the full review
. (
Psychiatric Services, American Psychiatric Association, August 2011
)
"What makes the volume cohesive is the prominence given to the application of the community mental health and public health models to mental health promotion and care on college campuses." (Journal of the American Academy of Child and Adolescent Psychiatry, March 2012)
"Kay and Schwartz's text breaks new ground in the attempt to assemble a comprehensive, yet compact resource for college mental health clinicians and health services administrators. I expect that we will hear further from this cohort of clinical innovators" (Journal of Clinical Psychiatry, December 2011)
"This book should be on the shelf of every clinician and administrator working in or with a college or university health clinic. Clinicians and trainees in departments of psychiatry, social work, psychology, and nursing would be well advised to read this book from cover to cover" (Michelle Riba, Psychiatry: Interpersonal Biological Processes October 2011)
"I would encourage any individual working at the college or university level that comes into contact with students to read Mental Health Care in the College Community" (Synergy, NASPA Newsletter, February 2011)
"I read this text with the same mantra running through my mind: "This book IS good for me, despite my reaction to its psychiatric lens." Indeed, this book is very, very good. There is a tremendous amount of information culled from a variety of sources (bear in mind that articles in this field are published in many different journals), and this information is seasoned well with the authors' clinical and administrative experiences ... offers a smorgasbord of pertinent, informed, and thoughtful chapters on working in the college setting." (Journal of College Student Psychotherapy, 2011)
"Mental Health Care in the College Community provides an enormous amount of valuable information on a number of diverse topics pertaining to the campus setting. Working with parents, different model of care, suicide prevention, training programs, and working with special populations are just a few..." (American Journal of Psychiatry, 2011)
"This thorough review and discussion of intervention studies could be helpful to student affairs departments (e.g., residential living, judicial affairs) in making decisions about which approach best fits their campus." (PsycCRITIQUES, November 2010)

"... Mental Health Care in the College Community is an excellent overview of the key aspects of college mental health services provision. It will be of great help to administrators as they evaluate their existing mental health services or plan for their improvement and expansion ." (MIWatch.org, 2010)
"I would like to thank you and Dr. Schwartz for your excellent work on your book "Mental Health Care in the College Community." I am a psychologist who has held leadership roles in community mental health centers and hospitals for 20 years... Finding your book was a godsend in quickly bringing me up to speed on the issues...I look forward to joining the ranks of college counseling directors and furthering the development of this important field." (Gary Dunn, 2011)
"Mental Health Care in the College Community will be of interest to counselling centre clinicians and also to postgraduate students as they work to understand how students' mental health impacts the university community" (Early Interventions in Psychiatry, 2011)
"For readers unfamiliar with mental health care at higher education institutions, the book is an effective guide to better understanding how counselling services are provided in these settings. The book may also serve as a textbook in graduate counseling and higher education courses that examine the delivery of counselling services at various colleges and universities" (Community College Review, November 2011)