Supramolecular Chemistry: From Molecules to Nanomaterials, 8 Volume Set
ISBN: 978-0-470-74640-0
Hardcover
4014 pages
March 2012
US $2,495.00

Add to Cart
This price is valid for United States. Change location to view local pricing and availability.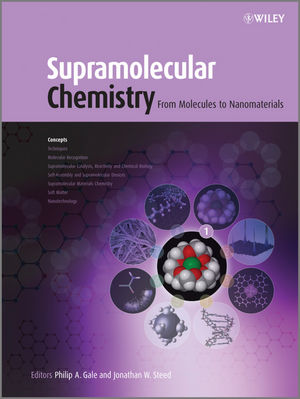 Editors-in-Chief
Professor Philip Gale
, School of Chemistry, University of Southampton,UK
Professor Gale is currently Head of the School of Chemistry at Southampton University. He is the author or co-author of over 160 publications including two books and a series of highly cited review articles on anion complexation. Professor Gale has won a number of research prizes and is the co-editor of the journal
Supramolecular Chemistry
, a commissioning editor for
Chemical Society Reviews
and a member of the international editorial advisory boards of Coordination Chemistry Reviews, the Encyclopaedia of
Supramolecular Chemistry
,
The Open Inorganic Chemistry Journal
and
Chemical Communications
. Professor Gale is also a member of RSC Science Policy Board.
Professor Jonathan Steed, Professor of Inorganic Chemistry, Department of Chemistry, Durham University,UK
Jonathan Steed is Professor of Inorganic Chemistry at Durham University. He is co-author of the textbooks Supramolecular Chemistry (2000 & 2009), Core Concepts in Supramolecular Chemistry and Nanochemistry (2007) and around 250 research papers. He has edited the Encyclopaedia of Supramolecular Chemistry (2004) and Organic Nanostructures (2008).
International Advisory Board
Jerry Atwood - University of Missouri-Columbia
Paul D. Beer - University of Oxford
Makoto Fujita - The University of Tokyo
Tom Fyles - University of Victoria
Andrew D. Hamilton - Yale University
Michaele Hardie - University of Leeds
Ivan Huc - Institut Européen de Chimie et Biologie (IECB)
Yun-Bao Jiang - Xiamen University
Kate Jolliffe - The University of Sydney
Kimoon Kim - Pohang University of Science and Technology (POSTECH)
David A. Leigh - University of Edinburgh
Jonathan L. Sessler - Institute for Cellular and Molecular Biology
George Shimizu - University of Calgary
Section Editors
Philip Gale, University of Southampton, UK
Eric Anslyn, University of Texas, USA
Bradley Smith, University of Notre Dame, USA
Edwin Constable, University of Basel, Switzerland
Enrique García-España, Universidad de Valencia, Spain
Douglas Philp, University of St Andrews, UK
Marcey Waters, University of North Carolina, USA
David Amabilino, Institut de Ciencia de Materials de Barcelona (CSIC), Spain
Pavel Anzenbacher, Bowling Green State University, USA
Len Barbour, University of Stellenbosch, South Africa
David K Smith, University of York, UK
Paula Mendes & Jonathan Preece, University of Birmingham, UK Co
More By These Authors