Steroid Dimers: Chemistry and Applications in Drug Design and Delivery
ISBN: 978-0-470-74657-8
440 pages
May 2012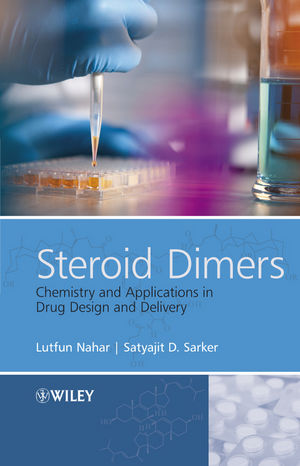 Steroid dimers are an important group of compounds produced by various marine organisms, and also synthesized in the laboratories. This group of compounds possesses various pharmacological and biological properties, and can also be used to create "molecular umbrellas" for drug delivery.
Steroid Dimers: Chemistry and Applications in Drug Design and Delivery provides an up-to-date overview on the chemistry and applications of steroid dimers of natural and synthetic origins. The book includes easy-to-follow synthetic protocols for various classes of important dimeric steroids, source details, valuable spectroscopic data and depiction of unique structural features of natural steroidal dimers, and the Structure-Activity-Relationships (SARs) of some pharmacologically active dimeric steroids. Topics covered include:
introduction to steroid dimers
synthesis and chemistry of noncyclic and cyclic steroid dimers
naturally occurring steroid dimers – cephalostatins, ritterazines and crellastatins
biological and pharmacological functions of steroid dimers and their application in drug design and discovery
steroid dimers as "molecular umbrellas" for drug delivery
Steroid Dimers: Chemistry and Applications in Drug Design and Delivery
is an essential guide to this important class of natural and synthetic compounds for researchers and students of natural products chemistry and biochemistry, synthetic organic and medicinal chemistry, and drug design, discovery and delivery.
See More
Preface ix
List of Abbreviations xi
1 Introduction 1
1.1 Steroids and Steroid Dimers 1
1.2 General Physical and Spectroscopic Properties of Steroid Dimers 2
1.3 Chromatographic Behaviour of Steroid Dimers 5
1.4 Applications of Steroid Dimers 6
References 6
2 Synthesis of Acyclic Steroid Dimers 7
2.1 Dimers via Ring A–Ring A Connection 7
2.1.1 Direct Connection 7
2.1.2 Through Spacer Groups 21
2.2 Dimers via Ring B–Ring B Connection 68
2.2.1 Direct Connection 68
2.2.2 Through Spacer Groups 74
2.3 Dimers via Ring C–Ring C Connection 84
2.3.1 Through Spacer Groups 84
2.4 Dimers via Ring D–Ring D Connection 87
2.4.1 Direct Connection 87
2.4.2 Through Spacer Groups 89
2.4.3 Through Side Chain and Spacer Groups 100
2.5 Dimers via Ring A–Ring D Connection 151
2.5.1 Direct Connection 151
2.6 Dimers via Connection of C-19 169
2.7 Molecular Umbrellas 170
2.8 Miscellaneous 174
References 182
3 Synthesis of Cyclic Steroid Dimers 187
3.1 With Spacer Groups: Cholaphanes 187
3.2 Without Spacer Groups: Cyclocholates 232
References 238
4 Naturally Occurring Steroid Dimers 241
4.1 Cephalostatins 242
4.2 Crellastatins 254
4.3 Ritterazines 262
4.4 Others 277
References 284
5 Synthesis of Cephalostatin and Ritterazine Analogues 287
5.1 Introduction 287
5.2 Synthesis of Cephalostatin and Ritterazine Analogues 288
5.3 Total Synthesis of Naturally Occurring Cephalostatin 1 371
References 376
6 Applications of Steroid Dimers 379
6.1 Application of Steroid Dimers as 'Molecular Umbrellas': Drug Delivery 379
6.2 Biological and Pharmacological Functions of Steroid Dimers: Drug Discovery and Design 382
6.2.1 Antimalarial Activity 383
6.2.2 Cytotoxicity and Anticancer Potential 386
6.2.3 Effect on Micellar Concentrations of Bile Salts and Serum Cholesterol Level 401
6.2.4 Effect on Bilayer Lipid Membranes 402
6.2.5 Supramolecular Transmembrane Ion Channels, and Artificial Receptors and Ionophores 402
6.2.6 Other Properties 404
References 405
Index 409
See More
Buy Both and Save 25%!
Steroid Dimers: Chemistry and Applications in Drug Design and Delivery (US $180.00)
-and- Heterocyclic Chemistry, 5th Edition (US $59.95)
Total List Price: US $239.95
Discounted Price: US $179.96 (Save: US $59.99)
Cannot be combined with any other offers. Learn more.