Essential Tools for Organisational Performance: Tools, Models and Approaches for Managers and Consultants
ISBN: 978-0-470-74665-3
148 pages
August 2009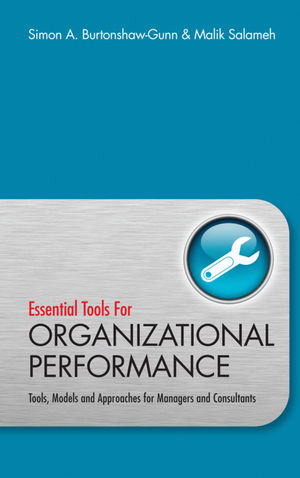 This book focuses on organizational development for increased business performance. The text and models cover process management, leading to change management and organizational development. Burtonshaw-Gunn and Salameh show that process implementation in any business depends on two key factors. First, the role of knowledge management in organizational and individual improvement is vital. Secondly, performance management for individual employees, and collaboration between organizations can bring about lasting change and development. Each chapter presents a balance between the organization's and individual performance commitment, and features helpful pointers to further sources of information.
Using the authors' knowledge and practical experience across a range of organizations and cultural settings this publication depicts the systematic efforts required for organizational development. This covers the following five major elements, each with a dedicated chapter describing in detail the tools and techniques necessary for successful performance improvement:
Process Management
Change Management and Organizational Development
People-Focused Performance Management
Knowledge Management and Performance
Organizational Performance through Tactical and Strategic Partnering
Essential Tools for Organizational Performance not only brings these inter-related topics together in a logical way but allows each to be considered as a stand-alone performance strategy. It fully references the original source of the models used and where additional in-depth information may be found.
Find out more on the Essential Tools website: www.essentialtoolsseries.com
"This is an extremely useful book for both business students and practicing managers. It presents models and theoretical frameworks, derived from research, in a way that is stimulating, accessible and of practical value. Topics are logically sequenced for ease of reference and the material is interesting and clearly presented without being oversimplified. Burtonshaw-Gunn and Salameh have produced a clear and practical guide that will help to improve management practice."
Sue Gill, Organisational Psychologist, Director of In-Company Programmes, Salford Business School, University of Salford, Greater Manchester
See More
ACKNOWLEDGEMENTS
ABOUT THE AUTHORS
INTRODUCTION
1 PROCESS MANAGEMENT
2 CHANGE MANAGEMENT AND ORGANIZATIONAL DEVELOPMENT
3 PEOPLE-FOCUSED PERFORMANCE MANAGEMENT
4 KNOWLEDGE MANAGEMENT AND PERFORMANCE
5 ORGANIZATIONAL DEVELOPMENT AND PERFORMANCE THROUGH COLLABORATIVE WORKING
REFERENCES
INDEX
See More
Professor Simon A. Burtonshaw-Gunn
is a practising management consultant with significant experience in both the public and private sectors covering a range of organizations and industries. He has undertaken assignments in Asia, North Africa, the Middle and Far East, and Eastern Europe. To support this experience he holds two Master's degrees and a PhD in various Strategic Management topics together with fellowship of four professional bodies. This book follows the popular
The Essential Management Toolbox
(John Wiley & Sons, 2008) which covered management tools, models and notes.
Dr Malik G. Salameh undertakes a wide range of international strategic consultancy assignments for a FTSE 100 defence prime contracting organization. He read Aeronautical Engineering for his first degree, before completing an MSc in Business and Operations Management followed by a PhD in Management. He is an active member of a number of professional bodies; including the Royal Aeronautical Society, the Chartered Institute of Marketing, the Chartered Management Institute and the Chartered Institute of Personnel and Development. He has also been selected as post-doctoral examiner for Warwick University Business School.
Since 2000, Professor Burtonshaw-Gunn and Dr Salameh have undertaken a range of management consultancy assignments together; both in the UK and in more challenging international locations. Over the last four years they have published a number of joint articles on a range of business topics, combining management theory with practical experience.
See More