Persuasion and Influence For Dummies
ISBN: 978-0-470-74737-7
400 pages
December 2011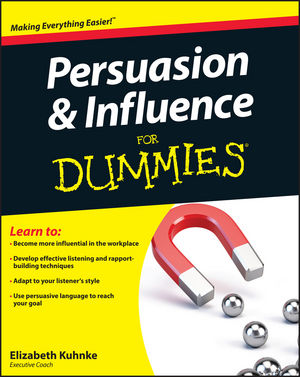 Many people want to gain trust or support in business and throughout life, but the true skill is doing so in a charming fashion! Whether you're convincing the boss about your much-deserved promotion or a busy restaurateur to offer a better table, the power of persuasion can help improve and increase your successes.
Elizabeth Kuhnke, author of the bestselling Body Language For Dummies, guides the reader through easy-to-implement techniques that can turn a timid person into someone bursting with self confidence and the ability to influence.
Topics covered will include:
The key elements in becoming more persuasive - body language, listening skills, using persuasive words and actions
Finding a common ground and establishing a connection with your audience
Capturing their attention and keeping them interested
Putting yourself across convincingly
Getting things done through others
Identifying the type of person you're dealing with - and responding in an appropriate manner
See More
Introduction 1
Part I: Preparing to Persuade and Influence 7
Chapter 1: Laying the Groundwork for Persuasion and Influence 9
Chapter 2: Finding Common Ground with Your Audience 27
Chapter 3: Establishing an Emotional Connection 57
Chapter 4: Putting Together a Compelling Case 73
Chapter 5: Establishing Your Credibility 93
Chapter 6: Exhibiting and Exercising Your Expertise 117
Part II: Developing Your Persuasive and Influencing Skills 135
Chapter 7: Listening Actively 137
Chapter 8: Gaining and Maintaining Your Audience's Interest 155
Chapter 9: Gearing Your Approach to Different Decision-Making Styles 177
Part III: Picking the Right Approach 205
Chapter 10: Getting Things Done with the Help of Others 207
Chapter 11: Leading by Example: Quietly Creating Big Change 229
Chapter 12: Appealing to Other People's Drives, Needs and Desires 245
Part IV: Putting Persuasion and Influencing Skills into Practice 271
Chapter 13: Getting Physical: Putting Body Language to Work 273
Chapter 14: Perfecting Your Persuasive Voice 293
Part V: The Part of Tens 321
Chapter 15: Ten Sure-Fire Ways to Influence Anyone 323
Chapter 16: Ten Ways to Persuade Electronically: Emails and Beyond 329
Chapter 17: Ten Ways to Persuade over the Phone 339
Chapter 18: Ten Essential Instruments for Your Persuasion Toolkit 347
Index 357
See More
Elizabeth Kuhnke is an Executive Coach and founder of Kuhnke Communication. She is also the author of the popular Body Language For Dummies.
See More