The Post-Modern Reader, 2nd Edition
ISBN: 978-0-470-74867-1
Hardcover
352 pages
December 2010
US $120.00

Add to Cart
This price is valid for United States. Change location to view local pricing and availability.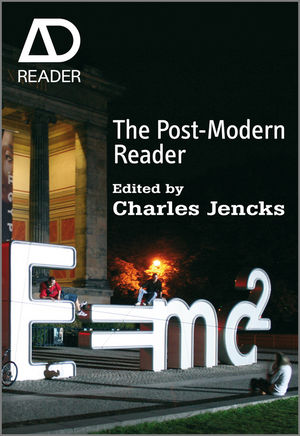 Preface.
Charles Jencks: Post-Modernism – The Ism that Returns.
Part 1 Defining the Post-Modern.
Charles Jencks: What Then Is Post-Modernism?
Jean-François Lyotard: Answering the Question: What Is Postmodernism?
Andreas Huyssen: Mapping the Postmodern.
Margaret A Rose: Defining the Post-Modern.
Part 2 Literature and Architecture.
John Barth: The Literature of Replenishment.
Umberto Eco: The Postscript to The Name of the Rose: Postmodernism, Irony, the Enjoyable.
Linda Hutcheon: Theorising the Postmodern: Towards a Poetics.
Ihab Hassan: From Postmodernism to Postmodernity: The Local/Global Context.
Felipe Fernández-Armesto: Pillars and Posts: Foundations and Future of Post-Modernism.
Jane Jacobs: The Kind of Problem a City Is.
Robert Venturi: Complexity and Contradiction in Architecture.
Charles Jencks: The Language of Post-Modern and the Complexity Paradigm.
Paolo Portoghesi: What Is the Postmodern?
Part 3 Sociology, Economics, Feminism, Science.
Zygmunt Bauman: Is There a Postmodern Sociology?
David Harvey: The Condition of Postmodernity.
Robin Murray: Fordism and Post-Fordism.
Anatole Kaletsky: 9/15 – The Birthpangs of Post-Modern Economics?
Susan Rubin Seleiman: Feminism and Postmodernism: A Question of Politics.
Craig Owens: The Discourse of Others: Feminists and Postmodernism.
Tito Arecchi: Chaos and Complexity.
John Gray: Evangelical Atheism, Secular Christianity.
David Ray Griffin: The Reenchantment  of Science.
David Bohm: Postmodern Science and a Postmodern World.
Charles Birch: The Postmodern Challenge to Biology.
Edward Goldsmith: Gaia and Evolution.
Index.