Why Women Mean Business: Understanding the Emergence of our next Economic Revolution
ISBN: 978-0-470-74950-0
390 pages
October 2009, Jossey-Bass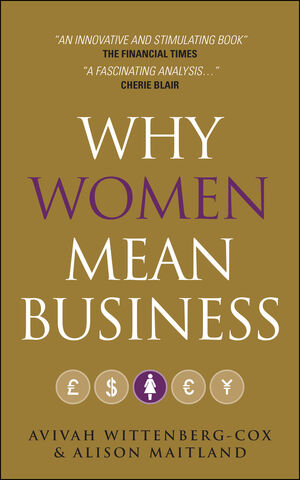 Never before has there been such a confluence of international attention to the economic importance of women and the need for policies to enable them to fulfil their potential. The position of women - as employees, consumers and leaders - is seen as a measure of health, maturity and economic viability.
Why Women Mean Business takes the economic arguments for change to the heart of the corporate world. This powerful new book analyses the opportunities available to companies that really understand what motivates women in the workplace and the marketplace. Find out how companies that learn to adapt to women will be better able to respond to the challenge of an ageing workforce and the demands of the next generation of knowledge workers. The authors compare policies and approaches in countries around the world, that offer surprising and envious results.
The optimisation of women's talents will boost the bottom line. Taking action to achieve this will require sustained courage and conviction from today's corporate leaders. Reading Why Women Mean Business will be an important first step.
See More
Foreword by Niall FitzGerald KBE.
Acknowledgements.
About the authors.
Chapter One: Womenomics.
Chapter Two: Most of the talent.
Chapter Three: Much of the market.
Chapter Four: Becoming "bilingual", what companies can do.
Chapter Five: Seven steps to successful implementation.
Chapter Six: Culture counts, what countries can do.
Chapter Seven: Figuring out females.
Chapter Eight: Tomorrow's talent trends . . . today, "women friendly" means "people friendly".
Chapter Nine: Conclusion, from better business to a better world?
References and Further Reading.
Index.
See More
Avivah Wittenberg-Cox
is CEO of 20-First, a leading gender consultancy, Publisher of 20-first.com and a global expert on how businesses can gender balance to get the best out of
both
halves of the talent pool and
both
halves of the market. She is also the founder and honorary president of the European Professional Women's Network, and a certified executive coach. Elle Magazine recognised her as one of the top 40 women leading change. She lives in France with her husband and gender balanced children (a son and a daughter).
Alison Maitland is a journalist and commentator who has been writing about women and business for over a decade. She spent 20 years with the Financial Times, latterly as Management Writer. A regular conference speaker and moderator, Alison is a Senior Visiting Fellow at Cass Business School in London and directs The Conference Board's European Council for Diversity in Business. She lives in the UK with her husband and two daughters.
See More