E-book
MPLS-Enabled Applications: Emerging Developments and New Technologies, 2nd Edition
ISBN: 978-0-470-75171-8
526 pages
April 2008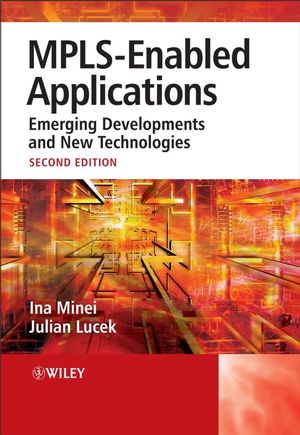 "Here at last is a single, all-encompassing resource where the myriad applications sharpen into a comprehensible text."
Kireeti Kompella, Juniper Fellow, Juniper Networks.
The authoritative guide to MPLS, now in its second edition, fully updated with brand new material!
Multiprotocol Label Switching (MPLS) is now considered the networking technology for carrying all types of network traffic, including voice telephony, real-time video, and data traffic. In MPLS-Enabled Applications, the Second Edition, the authors methodically show how MPLS holds the key to network convergence by allowing operators to offer more services over a single physical infrastructure. The Second Edition contains more than 150 illustrations, new chapters, and more coverage, guiding the reader from the basics of the technology, including signaling protocols, traffic engineering and fast reroute, though all its major applications.
MPLS Enabled-Applications, Second Edition, contains comprehensive up-to-date coverage of:
the current status and the future potential of all major MPLS applications, including L3VPNs (Layer 3 Virtual Private Networks), L2VPNs (Layer 2 Virtual Private Networks), pseudowires and VPLS .  (Virtual Private LAN Service).
extensive discussion of multicast support over MPLS, including a new chapter dedicated to multicast in VPNs, explaining both the PIM/GRE (Protocol Independent Multicast  / Generic Routing Encapsulation) and the next generation BGP/MPLS solutions, new material on support of multicast in VPLS, a much-expanded chapter on MPLS multicast and a section perations and management (OAM) tools for point-to-multipoint LSPs.
a new chapter on MPLS in access networks, as well as coverage of the use of MPLS in mobile and data communication networks. 
interoperation of LDP(Label Distribution Protocol) and BGP (Border Gateway Protocol) based VPLS.
comprehensive  coverage of the base technology, as well as the latest IETF drafts
With a foreword by Yakov Rekhter
See More
About the Authors.
Foreword.
Preface.
Acknowledgements.
Part One.
1. Foundations.
2. Traffic engineering with MPLS (MPLS-TE).
3. Protection and Restoration in MPLS networks.
4. MPLS DiffServ-TE.
5. Interdomain Traffic Engineering.
6. MPLS Multicast.
Part Two.
7. Foundations of Layer 3 BGP/MPLS Virtual Private Networks.
8. Advanced Topics in Layer 3 BGP/MPLS Virtual Private Networks.
9. Hierarchical and Inter-AS VPNs.
10. Multicast in a Layer 3 VPN.
11. Layer 2 transport over MPLS.
12. Virtual Private LAN Service.
13. MPLS Management.
14. MPLS in Access Networks.
15. Conclusions.
Appendix A. MPLS Resources.
Appendix B. Solutions to Selected Study Questions.
Acronyms.
Index.
See More
Ina Minei
joined Juniper Networks in 2000 and has worked in the JUNOS routing group ever since, first as a software engineer and then as a technical manager. Her focus has been on next-generation network technologies, in particular MPLS protocols and applications. She previously worked at Cisco for two years in various software development projects for routers and switches. Ms Minei is an active participant in industry forums and conferences and has co-filed several patents in the area of IP and MPLS. She holds a Master's degree in computer science from the Technion, Israel.
Julian Lucek joined Juniper Networks in 1999 and is currently the Technical Leader for JUNOS for the Europe, Middle East and Africa region, where he has been working with many service providers on the design and evolution of their networks. He previously worked at VT for several years, at first in the Photonics research Department and later in the data transport and routing area. During this time, he gained a PHD in ultrahigh-speed data transmission and processing from Cambridge University. He is the holder of several patents in the area of communications technology. He has a Master's degree in Physics from Cambridge University hand holds Juniper Networks certified Internet Expert (JNCIE) certification number 21.
See More
More in this series