Corporate Governance: How to Add Value
ISBN: 978-0-470-75417-7
Paperback
308 pages
August 2008
US $70.00

Add to Cart
This price is valid for United States. Change location to view local pricing and availability.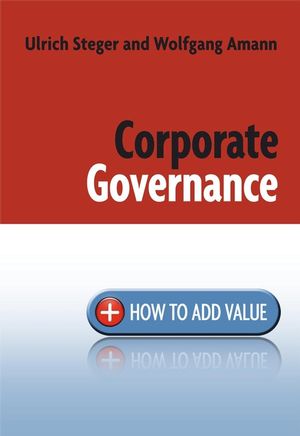 Other Available Formats:
E-book
Foreword.
Acknowledgments.
PART 1: INTRODUCTION.
Chapter 1: Corporate governance - beyond the scandals and buzzwords.
1.1. Every company has a corporate governance.
1.2. The history of corporate governance - a tale of crime and crises.
1.4. Basic corporate governance institutions.
1.5. The shaping factors of corporate governance.
1.8. Typical dilemmas for the board.
1.9. Corporate Governance and financial performance.
1.10 Where does Corporate Governance add specifically value?.
1.11. The contingent role of boards.
1.12. Case study: Developing Corporate Governance at Highfly Logistics Software - but how?.
1.13. Case study: Did Corporate Governance fail at Swissair?.
1.14. Case study: ABB - Corporate Governance during a turnaround.
Chapter 2: International Corporate Governance - similarities across systems.
2.1. Do international differences matter?.
2.2. Case study: DaimlerChrysler - Corporate Governance dynamics in a global company.
PART 2: BOARDS' INTERNAL DYNAMICS.
Chapter 3: Information demand and supply for changing Board roles.
3.1. Do new board roles require different information.
3.2. Case study: Conflicts of interests at the Board of Khan AG.
3.3. Case study: ICM: When hidden agendas enter the Board room (A).
3.4. Case study: ICM: Hidden agendas in the board room (B).
Chapter 4: Navigating through typical conflict patterns.
4.1. Are tensions and clashes normal.
4.2. Case study: War at the helm of Elicor.
4.3. Case study: Cobra vs. Commerzbank: Can investors raid their own company.
Chapter 5: Codes of conduct - the value added beyond compliance.
5.1. Codes of conduct as a panacea.
5.2. Case study: Boeing hits turbulence: is it worth losing a successful CEO for a Code of Conduct.
5.3. Case study: Codes of conduct at ConnectU2: Adding value, cost or nothing at all.
Chapter 6: Board evaluation.
PART 3: CORPORATE GOVERNANCE IN SPECIFIC CONTEXTS.
Chapter 7: Corporate Governance dynamics in M&A.
7.1. Why governance as usual is not an option in M&A.
7.2. Case study: The DaimerChrysler merger: The involvement of the boards.
7.3. Case study: DaimlerChrysler Board: after the deal is done.
Chapter 8: Corporate Governance in and with subsidiaries.
8.1. Tension fields and central issues.
8.2. Case study: Pharmagroup Int. and fluvera: when subsidiary governance means losing competitive ground.
Chapter 9: Corporate Governance in developed versus emerging markets.
9.1. The wild, wild East? The wild, wild South.
9.2. Case study: China Prime - Corporate Governance with Chinese traits.
9.3. Case study: Compania Unidas de Argentina: fight for your right or vote with your teeth.
9.4. Case study: Starting from scratch: Corporate Governance at South East bank Europe.
Chapter 10: Responsibilities in alternative forms of governance.
10.1. Differences in non-profit organizations.
10.2. Case study: WWF International - A truly world wide organization.
PART 4: CORPORATE GOVERNANCE IN SPECIAL OWNERSHIP SITUATIONS.
Chapter 11: Corporate Governance in family businesses.
11.1. Good news for family firms.
11.2. Case study: Bata shoes organization.
Chapter 12: Corporate Governance dilemmas in private equity companies.
12.1. Corporate Governance in private equity firms: can it add value.
12.2. Case study: Automotive Machine Tool GmbH&CoKG: From ailing Family Business to accelerating Private Equity.
12.3. Case study: Biocast - Welcome to the board. I knew your three predecessors well.
12.4. Case study: Asian Car Part holding: sold without the knowledge of the board.
Part 5: Conclusion.
About the authors.