E-book
Manual of Smoking Cessation: A Guide for Counsellors and Practitioners
ISBN: 978-0-470-75784-0
E-book
168 pages
April 2008, Wiley-Blackwell
US $47.99

Purchase This E-book
This price is valid for United States. Change location to view local pricing and availability.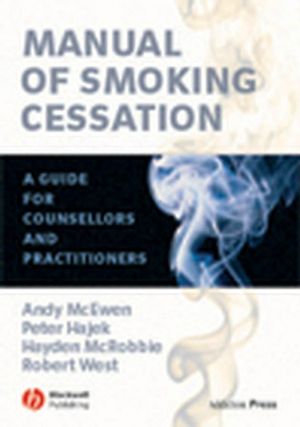 Adobe e-books are read using Adobe Digital Editions. Install Adobe Digital Editions on your PC in order to read or transfer your e-book.
"Few quit-smoking books are as packed with relevant information or written in such a refreshingly concise manner. The authors break down the job of helping smokers into two basic components: 'Getting the essentials', which includes facts on smoking patterns, the health risks of smoking and the benefits of stopping; and 'Practical advice', which includes practitioner-friendly guidance for brief interventions, intensive one-on-one support, telephone counseling and group interventions. Throughout the manual, the authors offer many practical suggestions, including sample dialogue for health professionals. Sprinkled throughout each section are smokers' commonly asked questions and examples of clinician responses. The design of the book adds to its usefulness, with an engaging mix of text, bolded phrases, bulleted lists, boxed features such as quotes and myths, tables, referrals and resource materials. The
Manual for Smoking Cessation
is an informative, well-stated and sound practitioner guide."
Addiction, Vol 102: 2007<!--end-->
"This comprehensive manual on smoking cessation is clear, concise and accessible, making it attractive for lecturers and students, as well as busy practitioners and counsellors. Given the well-established health risks of smoking, the health benefits of smoking cessation should be the business of every healthcare professional. This manual makes a positive contribution to facilitating that process. [This book] covers smoking demographics, health risks of smoking and benefits of cessation. However the main thrust of the text is on practical advice, including brief interventions, one-to-one support, group interventions and telephone counselling. The manual is grounded in reality and does not underestimate the difficulties that people experience in combating nicotine addiction."
Nursing Standard, September 2006; Vol 21: No 2, 2006

"The book is user-friendly to the highest degree with regards to both its content and format. The broad field of smoking cessation is covered succinctly with knowledge that is based on available clinical evidence … .The size and the length … as well as the graphic design … enhance the manual's accessibility and utility. Its high practicality of use as a manual is also achieved by clear articulation of key messages … .Crucial ideas are presented in boxes and thus visually emphasized. The manual can also be used as a teaching aid … .The authors' model of smoking behavior is logically coherent and clinically consequential. [It] will certainly be an excellent source of practical information for anyone already engaged in or interested in working in the tobacco treatment field." International Journal of Mental Health and Addiction

"The Manual of Smoking Cessation: A Guide for Counsellors and Practitioners expertly synthesises the evidence base with current good practice to produce detailed advice on how best to help smokers to quit… This clear guidance on what to do and say to smokers wanting to stop is supplemented by the clever use of suggested phrases and frequently asked questions throughout the text. The result is not merely another text book; the Manual is exactly what it says in the title, it is A Guide for Counsellors and Practitioners." From the Foreword by Gay Sutherland, Tobacco Research Unit, Institute of Psychiatry, London, UK

"There is a very large body of science about how to help smokers stop and the major strength of this book is its ability to translate this science into practice… The authors' long experience on the front lines of smoking cessation practice and cutting-edge research on smoking cessation is evident in the many practical and concrete recommendations. The format of the book makes it a pleasure to read."
John R. Hughes, M.D., Department of Psychiatry, University of Vermont, Burlington, USA
'
In summary
, West has written an important book about addiction. It is written by a researcher who knows the addiction area very well. Throughout the book the reader is exposed to a vast number of useful observations, in particular related to smoking cessation, which is his main research area. The review and evaluation of existing theories...from rational choice theories to neurobiological theories is amazing in terms of pinpointing their essence and shortcomings. The theoretical aims are timely, refreshing, ambitious and above all challenging. It opens up a new way of looking at addiction and has the potential to move the field of addiction a considerable leap forward.
Thus we wholeheartedly would like to recommend the book for students as well as scholars. Read and learn!'
Nordic Studies on Alcohol and Drugs, Vol 24, 2007
'The book provides a comprehensive review of existing theories - over 30 in all - and this synthesis of theories constitutes an important contribution in and of itself...West is to be commended for his synthesis of addiction theories that span neurobiology, psychology and social science and for his insights into what remains unexplained.'
Addiction, Vol 101, Iss 7.

'Robert West's erudite, lucidly written Theory of Addiction takes the reader on an engaging tour of almost every significant conceptual system in the field … West adroitly finds gold amongst the lead, adds some previous gems of his own, and presents the field with a real treasure: an integrated, useful, thought-provoking and testable theory of addition.'
Keith Humphreys, PhD, Associate Professor of Psychiatry, Stanford University School of Medicine

'This book is a tour de force, constructing step by step a wide-ranging theory of addiction … After summarising and assessing more than 30 previous theories, West draws on elements from economics, sociology, pharmacology and biology, along with a core of material from psychology, to put together a broad and testable theory of how people move into and out of addiction, and how social forces can affect this … The book will serve as a point of reference for years to come.'
Robin Room, Professor and Director, Centre for Social Research on Alcohol and Drugs (SoRAD), Stockholm University

'This volume is a welcome attempt at a synthesis of the plethora of theories and models that abound in the field of addiction.'
Wayne Hall, Professorial Research Fellow and Director, Office of Public Policy and Ethics, Institute for Molecular Bioscience, University of Queensland, Australia