Facilitating Group Learning: Strategies for Success with Adult Learners
ISBN: 978-0-470-76863-1
304 pages
October 2010, Jossey-Bass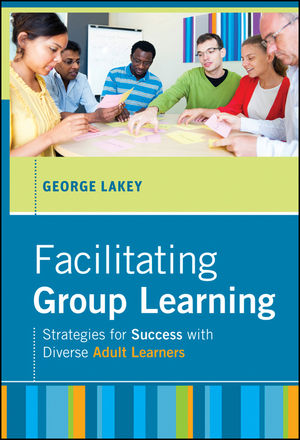 This book defines principles and techniques for teaching adults in groups and includes illustrative stories from the experiences of the author. It deals with issues of diversity, as well as authenticity and emotions in group learning. This book  describes how to design effective learning experiences, and how to facilitate these learning experiences, and brings all the elements of the author's approach together.  It also includes material on sustaining the educator, working with social movements, and an effective toolkit. This book is resource for facilitators of adults in group learning situations.
See More
About the Author.
Acknowledgments.
1. Introduction: Direct Education for Adult Learning Groups.
Part I: The Learning Group and the Individual.
2. The Role of the Individual and the Group in Direct Education.
3. Harnessing the Power of Intention.
4. Strengthening the Container: Subgroups Join the Mix.
5. The Secret Life of Groups.
Part II: Diversity, Difference, and Emotions in Group Learning.
6. Acknowledging Difference to Accelerate Learning.
7. Diversity and Conflict Styles.
8. Social Class and Diversity.
9. Authenticity, Emotion, and Learning.
Part III: Designing Learning Experiences.
10. Structures for Organizing the Content.
11. Building on What the Learners Know.
12. The Art of Timing in Adding New Knowledge.
13. Sequencing for Maximum Impact.
14. Accountability in Direct Education.
15. Emergent Design: Facilitating the Here and Now.
Part IV: Facilitation.
16. Setting the Tone and Building Safety.
17. Edgy Interventions to Accelerate Learning.
18. The Power of Framing.
19. Sensitivity in Cross-Cultural Issues.
20. The Drama of Transformational Work.
21. Conclusion: Bringing It All Together.
Resources.
Appendix A: The Sustainable Educator: Advocacy, Modesty, and Diversity of Gifts.
Appendix B: The Sustainable Educator: Resilience and Revolution.
Appendix C: For Further Reading.
Appendix D: Tools and Resources for Direct Education.
References.
Index.
See More
George Lakey is visiting professor and research fellow for the Lang Center for Civic and Social Responsibility at Swarthmore College and cofounder of the nonprofit Training for Change. He is the author or coauthor of eight books including Grassroots and Nonprofit Leadership and A Manual for Direct Action.
See More
Learn more about