Cultivating the Spirit: How College Can Enhance Students' Inner Lives
ISBN: 978-0-470-76933-1
Hardcover
240 pages
November 2010, Jossey-Bass
US $40.00

Add to Cart
This price is valid for United States. Change location to view local pricing and availability.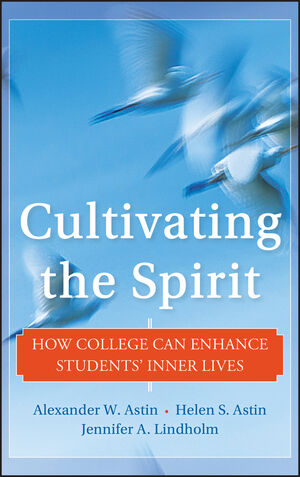 Other Available Formats:
E-book
October 29, 2010
Cultivating the Spirit
Connect with Wiley Publicity
Researchers Find College Students' Spirituality Associated with Academic Growth and Satisfaction with College
Cultivating the Spirit: How College Can Enhance Students' Inner Lives details the need for Academia to "attend more to students' spiritual development"
LOS ANGELES , CA– Researchers from UCLA's Spirituality in Higher Education project have found that spiritual growth in college students enhances academic outcomes such as scholastic performance, psychological well-being, leadership development and satisfaction with college. Cultivating the Spirit: How College Can Enhance Students' Inner Lives, written by Alexander W. Astin, Helen S. Astin and Jennifer A. Lindholm, is the first national longitudinal study of students' spiritual growth. The book's research represents a national study of college students' search for meaning and purpose.
For example, compared to students whose equanimity declines during college, those whose equanimity increases have a 50% better chance of earning at least a B+ average. Similarly, students whose Equanimity increases during college, compared to those whose Equanimity declines, are nearly three times more likely to end up being "very satisfied" with their college experience.
"We believe that the findings provide a powerful argument that higher education should attend more to students' spiritual development," stated co-author Alexander Astin. "Spiritual development is not only an important part of the college experience in its own right, but also promotes other positive outcomes of college."
The seven-year research study examined how students' religious and spiritual views change during the college years and the role that college plays in facilitating the development of their spiritual and religious qualities. The study surveyed 112,000 freshmen as they enrolled in 236 colleges and universities and then followed up with 14,527 of these students as they completed their junior year at 136 colleges.
Some of the findings include:
Religious engagement among students declines somewhat during college, but their spirituality shows substantial growth. Students become more caring, more tolerant and more connected with others as well as more actively engaged in a spiritual quest.

College activities contribute to students' spiritual growth. Some of these--study abroad, interdisciplinary studies. interracial interaction, and service learning--appear to be effective because they expose students to new and diverse people, cultures and ideas.

Spiritual development is enhanced if students engage in "inner work" through activities such as meditation or self-reflection, or if their professors actively encourage them to explore questions of meaning and purpose. Spiritual development is impeded when students engage in activities that distract them from campus life opportunities--activities such as watching television and playing video games.
The seven-year study detailed in Cultivating the Spirit was funded through two generous grants from the John Templeton Foundation. The surveys were conducted as part of the Higher Education Research Institute's Cooperative Institutional Research Program, the nation's oldest and largest study of higher education.
Resources
###
About Spirituality in Higher Education
For more information, visit http://spirituality.ucla.edu/ and www.cultivatingthespirit.com.