E-book
Dutch For Dummies
ISBN: 978-0-470-77974-3
392 pages
April 2008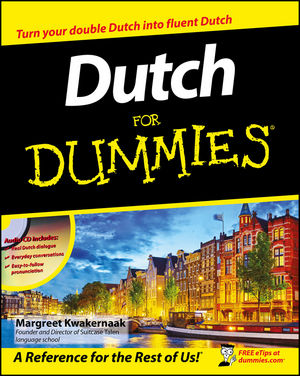 Dutch is spoken by 23 million people, mainly in the Netherlands and Belgium, and is an official EU language. For English speakers, written Dutch can be fairly straightforward to pick up, although the pronunciation can be more of a challenge.
This simple guidebook and audio CD covers Dutch grammar, pronunciation and everyday phrases, making this vibrant language more accessible to English speakers – whether you're just visiting or planning to stay on a long-term basis.  Dutch For Dummies is the essential guide for everyone from students and holidaymakers, to those wanting to speak Dutch for business purposes.
From numbers and vocabulary to greetings, popular expressions and proper etiquette, this clear, easy-to-follow guide will have you speaking Dutch like a native in no time. 
Dutch For Dummies includes:
Audio CD to assist learning
Introductory grammar and vocabulary
Meeting and getting to know people
Dining out, shopping, leisure time and the workplace
Dealing with emergencies
Tips on how to pick up Dutch quickly
Note: CD files are available to download when buying the eBook version
See More
Introduction 1
Part I: Getting Started 7
Chapter 1: You Already Know Some Dutch 9
Chapter 2: Low-cal Grammar: Just the Basics 27
Chapter 3: Number Magic: All Kinds of Counting 49
Part II: Dutch in Action 65
Chapter 4: Greetings and Introductions 67
Chapter 5: Getting to Know Each Other Better 85
Chapter 6: Enjoying a Meal and Eating Out 99
Chapter 7: Shopping 'til You Drop 131
Chapter 8: Making Leisure a Top Priority 149
Chapter 9: When You Have to Work 177
Part III: Dutch on the Go 199
Chapter 10: Money, Banks, and Post Offices 201
Chapter 11: Asking for Directions 215
Chapter 12: Staying in a Hotel 231
Chapter 13: Using Transport 249
Chapter 14: Coping with Emergencies 283
Part IV: The Part of Tens 303
Chapter 15: Ten Ways to Pick Up Dutch Quickly 305
Chapter 16: Five Things You Should Never Say 309
Chapter 17: Ten Favourite Dutch Expressions 311
Chapter 18: Ten Public Holidays to Remember 315
Chapter 19: Ten Phrases That Make You Sound Professional 321
Part V: Appendixes 325
Appendix A: Dutch Verbs 327
Appendix B: Minidictionary 341
Appendix C: About the CD 355
Index 357
See More
Margreet Kwakernaak has taught Dutch to foreign students for over ten years. She is the founder and director of Suitcase Talen, a language school in Almere, the Netherlands.
See More