Textbook
Accounting Theory, 7th Edition
ISBN: 978-0-470-81815-2
524 pages
June 2010, ©2010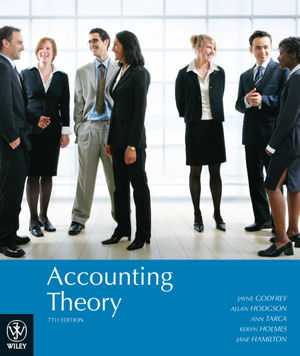 Accounting Theory 7e is the new edition of this widely respected accounting theory textbook. The new edition has been updated in accordance with ongoing developments the IASB Framework and reporting and disclosure requirements as a consequence of international harmonisation of accounting standards. The strength of this textbook has always been the balanced approach taken to explain and discuss alternative theories. The new edition continues with this tradition and seeks to make a clearer connection for students, studying accounting theory, that accounting theory is important and relevant.
The Framework of the International Financial Reporting Standards (IFRS) has required significant consolidation and rewriting of chapters. More than ever, the focus of this new edition is to provide students with an understanding of the Framework and how accounting information can be interpreted, disclosed and reported in practice. The new edition continues to present the latest research and developments in accounting theory whilst maintaining an objective perspective.
See More
Part One Accounting theory
1. Introduction
2. Accounting Theory Construction
3. Applying theory to accounting regulation
Part Two Theory and accounting practice
4. A conceptual framework
5. Measurement theory
6. Accounting measurement systems
7. Assets
8. Liabilities and owners' equity
9. Revenue
10. Expenses
Part 3 Accounting and research
11. Positive theory of accoutning policy and disclosure
12. Captial market research
13. Behavioural Research in Accounting
14. Emerging issues in accounting and auditing
See More
Professor Jayne Godfrey
., BCom (Hons), DipEd, MEc, PhD, is President of Academic Board and Professor of Financial Accounting at Monash University. Her publications draw upon a range of accounting and auditing theories. For her service to Australian society through business leadership, Jayne was awarded Australia's Centenary Medal. A past member of the Australian Accounting Standards Board, and past president of the Accounting Association of Australia and New Zealand, she frequently addresses international and national audiences concerning accounting research issues. She is currently a member of Australia's Water Accounting Standards Board, applying principles consistent with accounting theories described in this book. Jayne's research focuses on the role of accounting and auditing in generating and distributing economic resources, including the contracting and capital market causes and consequences of earnings management, and auditor specialisation.
Professor Allan Hodgson, BEc (Hons), MEc, PhD, is Dean of the Amsterdam Business School and Director of Graduate Studies at the University of Amsterdam. Allan has lectured in accounting theory and fi nancial statement analysis in Africa, Europe, Australia, the United Kingdom and the United States. His published research in international journals covers insider trading, derivative markets, banking, capital market research, corporate governance and intangibles. He is currently on the editorial boards of six international journals.
Professor Ann Tarca, PhD, MAcc, BCom, is a professor in the Accounting and Finance group of the Business School at the University of Western Australia (UWA). She has over 20 years teaching experience, with the last 15 years being spent at UWA working with both undergraduate and post-graduate students. Following from her experience as a chartered accountant in public practice, her research has focused on financial reporting standards and practices. She has a particular interest in international issues including standard setting, regulation and enforcement.
Professor Jane Hamilton, BBus, MAcc, PhD, is Professor of Accounting at the Bendigo campus of the Regional School of Business, La Trobe University, and previously held academic positions at the University of Technology, Sydney. Jane has 20 years experience in teaching and has published the results of her auditing research in several Australian and international journals.
Professor Scott Holmes, BCom, PhD, FCPA, is currently Pro Vice-Chancellor (Research), Dean of Graduate Studies and Professor of Accounting, The University of Newcastle and Honorary Professor, UQ Business School, The University of Queensland. Scott  has held academic positions at a number of universities, including Australian National University, Queensland University of Technology, The University of Queensland, University of Arizona and University of Oregon. He has also acted as a consultant to several of the multinational accounting fi rms, and in 2007-08 was senior adviser to the New South Wales Treasurer. In 2004, Scott was made a life member of the Small Enterprise Association of Australia and New Zealand in recognition of his research in the area of small-fi rm financial management and reporting. Scott's current research focus is budget and reporting models in a health setting. 
See More
Major structural change to the table of contents reflects the changing focus of accounting theory subjects and the relevance of the text for students studying accounting theory
Maintains the authoritative explanation and analysis of accounting theory and its practical application to business
Chapters 4 to 10 - thoroughly rewritten to reflect the theoretical underpinnings and change in reporting process as defined by the International Accounting Standards Board
International context of discussing accounting theory concepts and their application.
See More
New chapter on 'Emerging Issues' address the application of accounting theory in respect to sustainability, fair value accounting and future directions in the future of international accounting standards
Consideration of accounting theory to auditing & assurance included in each chapter
The chapters in Part 2 Theory and accounting practice have been thoroughly rewritten to reflect the extensive reforms enacted under IFRSs
Increased number of 'Theory in Action' chapter vignettes and end of chapter case studies to apply theoretical concepts to practical realities and professional events
See More
Instructors Resources
Request a print evaluation copy
Contact us

Contact your Wiley Representative
Find Your Rep

See More
See Less