Value Added Risk Management in Financial Institutions: Leveraging Basel II & Risk Adjusted Performance Measurement
ISBN: 978-0-470-82115-2
300 pages
March 2004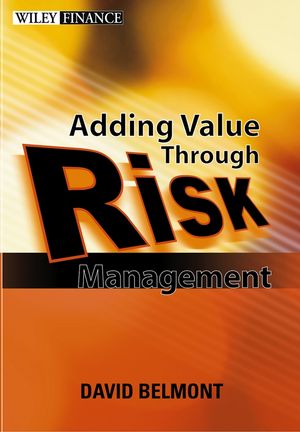 A new perspective on risk management
Risk management has evolved to address the more strategic issue of optimization of return on risk. This has been accompanied by statistical, mathematical, and financial techniques which-when actively applied-can aid an institution in producing disproportionately high returns on risk. Adding Value Through Risk Management aims to describe these techniques, illustrate their application, and discuss their strategic value for financial institutions.
David Belmont is Director of Group Risk Control for Nexgen Financial Solutions Group (NFS).
See More
Introduction.
Chapter 1. Risk Management and Value Creation.
Chapter 2. A Rebuttal of the Risk Mangement Irrelevance Proposition.
Chapter 3. Who Should Care and Why?
Chapter 4. Optimizing Return, Risk, and Value.
Chapter 5. Determining Capital Allocations.
Chapter 6. Determining the Cost of Capital.
Chapter 7. Linking Capital to Value - Capital Structuring
Chapter 8. Linking Risk to Return and Value - Setting Economic Capital Budgets and Strategies.
Chapter 9. Impact of Basel II - Installing and Using I.T. Systems to Measure Regulatory and Economic Risk
Chapter 10. Frameworks for Economic Profit and RAROC: Case Studies and Common Errors.
Chapter 11. Conclusion.
Index.
See More
David Belmont is the Director of Group Risk Control for Nexgen Financial Solutions Group (NFS). NFS is a closely held, EU regulated financial services group active in global derivatives trading, structuring, and reinsurance. As Director of Group Risk, David is responsible for risk management of Nexgen Group s complete portfolio which includes credit derivatives, CLO s/CDO s, ART/CAT insurance derivatives, exotic structured equity derivatives, and speculative grade credits. The Nexgen Group companies include Nexgen Capital, Nexgen Holdings, and Nexgen Reinsurance. David reports directly to the Board of Nexgen Group. Prior to joining NFS, David was Director of Anderson s Financial and Commodity Risk Consulting (FCRC) practice based in Singapore. The Singapore FCRC was the center of competence for Andersen s risk consulting activities throughout Asia. As leader of the Singapore FCRC practice, David was a key member of the management of Andersen regionally. Before joining Andersen in 1999, David was the Asia/Pacific Regional Risk Manager for Cargill Financial Services, a multi billion dollar proprietary hedge fund concentrating on emerging markets. David has practical experience managing risk through periods of low liquidity and high volatility having been the Asia/Pacific risk manager through the recent Asian crisis and, previously, the Latin American risk manager through the Venezuelan and Mexican crises. Prior to his Risk Manager roles, David was a trader of structured emerging market derivative products. David has also underwritten emerging market sovereign risk at Citibank in New York.The geographic spread of his experience and responsibilities has extended from Pakistan and the Indian Subcontinent through South East Asia, to Greater China, Japan and Korea. Previous to coming to Asia, David was the Risk Manager for the Latin American portfolio of the Cargill Financial Services and worked extensively throughout Latin America.David has over 10 years of experience in managing risk in Emerging Markets.
See More