Harvard Business School Confidential: Secrets of Success
ISBN: 978-0-470-82239-5
250 pages
August 2009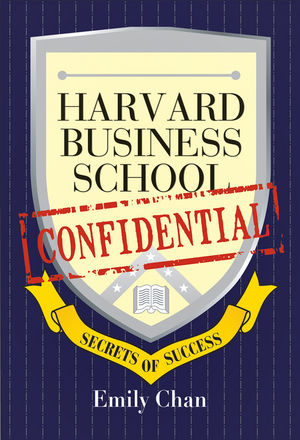 Harvard Business School is the iconic business school. An admission ticket to HBS is a hot commodity and an HBS degree is highly respected in the business world.  This book, written by an HBS grad and seasoned businesswoman, tells you why. It is a distillation of the most valuable and pragmatic but yet easiest to learn concepts taught at HBS.
See More
PART I PERSONAL.
CHAPTER 1 HOW MONEY WORKS.
CHAPTER 2 YOU CAN NEGOTIATE ANYTHING.
CHAPTER 3 SPEAK SO PEOPLE WILL LISTEN.
CHAPTER 4 IT' S WHO YOU KNOW.
CHAPTER 5 IT IS BIGGER THAN YOU.
PART II OPERATIONS.
CHAPTER 6 PROCESS.
CHAPTER 7 HUMAN RESOURCES.
CHAPTER 8 MARKETING.
CHAPTER 9 SALES.
CHAPTER 10 FINANCE.
PART III STRATEGY.
CHAPTER 11 THE BIG PICTURE.
CHAPTER 12 FILLING IN THE BLANKS.
CHAPTER 13 "PLANS ARE NOTHING. PLANNING I S EVERYTHING".
CHAPTER 14 THE CLASSICS.
CHAPTER 15 FINAL WORDS.
APPENDIX A "WHY" AND "SO WHAT''.
APPENDIX B KEY INTERVIEWING TECHNIQUES FOR DATA COLLECTION.
APPENDIX C CAGR SHORTCUT.
APPENDIX D CHANGE MANAGEMENT TOOL: DICE.
INDEX.
See More
Emily Chan
graduated top of her engineering class at Stanford University and has an MBA from Harvard Business School. She was a consultant with The Boston consulting Group (BCG) for over eight years, and also worked as a corporate strategist and an independent consultant in Greater China. Based in Hong Kong, she is now Director of Pacific Merit Ltd. (PMI), a family-owned direct investment company that invests in distressed assets in the US, Europe and Asia. PML's current portfolio includes assets in biotechnology, media and real estate.'
She can be contacted at emily@texwatchinc.com.
See More