Strategy for the Wealthy Family: Seven Principles to Assure Riches to Riches Across Generations
ISBN: 978-0-470-82310-1
300 pages
January 2008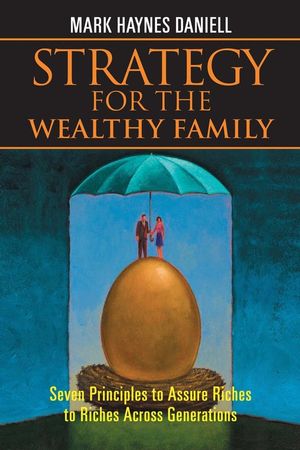 "An excellent and comprehensive approach to the strategies required to understand, protect and grow family wealth across generations."

John Evans
Managing Editor
Private Banker International

"Strategy for the Wealthy Family expands the field of wealth planning and management by exploring beyond just financial concerns to consider critical human issues such as philanthropy and family leadership."

Professor Randel S. Carlock, Ph.D., INSEAD Business School
Berghmans Lhoist Chaired Professor in Entrepreneurial Leadership
Director, Wendel International Centre for Family Enterprise

"The first book I have ever seen which fully addresses the all-important human side of the wealthy family as well as the financial aspects of family wealth management...an important book for any family, no matter how much wealth they have."

Vivian Imerman
Entrepreneur


"Strategy for the Wealthy Family is a brilliant source of insight and information covering all aspects of family wealth management. This book is a perfect companion for private bankers, wealth managers, and wealthy families."

Christopher Wilson
Managing Partner
Family Office Trust

"...a complete work of art for the wealthy."

R Jayachandran
Chairman
Aquarius Investment Advisors
See More
Preface.
Dedication.
Acknowledgments.
Introduction.
Mastering the Challenge of Family Wealth: Seven Principles of Strategy for the Wealthy Family.
PRINCIPLE 1: A FRAMEWORK FOR FAMILY STRATEGY.
1. The Elements of Strategy.
2. Defining True Family Wealth.
3. Categories of Financial Wealth and their Implications.
4. Evolution Across Generations.
5. Process and Content of Family Strategy.
PRINCIPLE 2: FAMILY ORGANISATION AND LEADERSHIP.
6. Family Identity, Vision and Values.
7. Organization, Governance and the Family Constitution.
8. "Heir Conditioning": Preparing the Next Generation.
9. The Family "Eco-System".
10. The Family Office.
11. Family Leadership and Engagement.
PRINCIPLE 3: FAMILY WEALTH PRESERVATION.
12. The Lessons of Risk and History.
13. Financial Discipline and Distribution Patterns.
14. Tax Management and Asset Structuring.
15. Establishing and Managing a Trust System.
16. Estate Planning and Ethical Will.
17. Risks To Family Wealth and Well-being.
PRINCIPLE 4: FAMILY WEALTH MANAGEMENT.
18. The Investment Process.
19. Investment Profile and Investment Objectives.
20. Understanding Asset Classes.
21. Strategic Asset Allocation.
22. Performance Reporting, Portfolio Risk and Cost Control.
23. Private Banks, MFO's and Elite Family Investment Managers.
PRINCIPLE 5: THE FAMILY BUSINESS.
24. The Importance and Performance of  Family Businesses.
25. Family Issues in Business Strategy.
26. Strategic Success for a Family Business.
27. Managing the Family in a Family Business.
28. Family Business Role in Family Wealth Management.
PRINCIPLE 6: EFFECTIVE PHILANTHROPY.
29. The History of Generosity.
30. New Philosophy and Practices of Philanthropy.
31. Practicalities and Benefits of Family Giving.
PRINCIPLE 7: LIVING A TRULY WEALTHY LIFE.
32. Mastering the Individual Challenges of Family Wealth.
PRINCIPLES IN ACTION: PRACTICAL EXAMPLES OF
STRATEGY DOCUMENTS FOR THE WEALTHY FAMILY.
Introduction
Example 1a: Family Strategy Document for a Category I (US$5 million) Family.
Example 1b: Family Strategy Document (Full Version) for a Category III (US$500 million) Family.
Example 2: Family Constitution.
Example 3: Trust Deed and Letter of Wishes.
Example 4: Investment Policy Statement.
Example 5: Family Business Strategy: Executive Summary.
Example 6: Philanthropic Foundation Document.
Example 7: Ethical Will.
Bibliography.
Index. 
See More
Mark Haynes
Daniel
l is the founder and chairman of The Cuscaden Group, a privately owned investment and advisory business.
Mr. Daniell is a former director of Bain & Company, one of the world's leading strategy consulting firms, where he worked for more than 20 years with some of the world's wealthiest families and their businesses around the world. He also served as a Director of Wasserstein Perella, a boutique mergers and acquisitions advisory firm in London and Paris, and was the founder and chairman of Singapore's national Private Wealth Management Initiative. An independent director of Olam International, a multi-billion dollar international logistics business, Mr. Daniell has also been President of k1 Ventures, a publicly listed strategic investment company, and is a director of a number of privately owned companies.
Mr. Daniell holds a juris doctor degree from the Harvard Law School, an Honors degree in jurisprudence (B.A. and M.A.) from Oxford University (University College), a B.A. degree from Amherst College, a C.E.P from the Institut d'Etudes Politiques de Paris and a D.E.F from the Sorbonne-Université de Paris IV. He is also a High Honors graduate of The Phillips Exeter Academy in the United States.
In addition to authoring five books on wealth management, business strategy and global affairs, Mr. Daniell has contributed numerous articles to The Wall Street Journal and business publications. He is a frequent expert guest commentator on business and economic affairs for CNBC, the BBC, CNN, and Channel NewsAsia.
See More