Next Generation Excel: Modeling in Excel for Analysts and MBAs
ISBN: 978-0-470-82473-3
Hardcover
250 pages
December 2009
US $120.00

Add to Cart
This price is valid for United States. Change location to view local pricing and availability.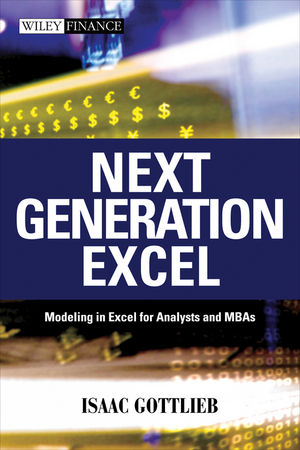 December 01, 2009
Tapping the Power of Excel for Analysts and MBAs
Connect with Wiley Publicity
Make no mistake, this is not another run-of-the-mill "how to use Excel" book.
Written by Rutgers professor, Dr. Isaac Gottlieb, who has conducted countless Excel workshops and courses and arrived at the conclusion that people do not want to read long complicated explanations, here is a book filled with short descriptions and multiple screenshots to walk you – the reader – through Excel's different manipulations.
Published by John Wiley & Sons, Next Generation Excel: Modeling in Excel for Analysts and MBAs (ISBN: 978-0-470-82473-3) will show readers how to quickly create models that deliver accurate, relevant information related to efficiency, forecasting, and a host of other business and reporting issues.
This book takes the same approach Dr. Gottlieb brings to his classes: Read (the material), Review (the screenshots provided), Practice (the techniques taught) and Master (Excel!). Each chapter is subject-specific and can be consulted independently from the others. By opening the book at any chapter, the reader will find valuable information for immediate efficiency improvement.
Neither a beginners' introductory book nor an experts' manual, users at any level will benefit from the wealth of information within. Next Generation Excel summarizes all the important techniques one can master in a very short time and enable the reader to carry out most of the business functions using Excel in a very efficient way, be it statistics, decision making and sensitivity analysis, accounting, finance or data-mining for marketing – this book will take you there in minutes.
Additional information on the book is available at http://www.wiley.com/WileyCDA/WileyTitle/productCd-0470824735.html.
Next Generation Excel: Modeling in Excel for Analysts and MBAs
Published by John Wiley & Sons
Publication Date: October 12, 2009
US$90.00; Cloth; 250 pp.; ISBN: 978-0-470-82473-3