The End of Progress: How Modern Economics Has Failed Us
ISBN: 978-0-470-82998-1
Hardcover
256 pages
August 2011
US $29.95

Add to Cart
This price is valid for United States. Change location to view local pricing and availability.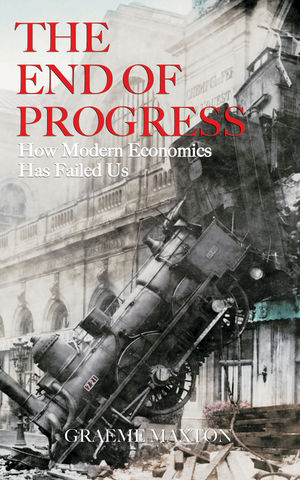 Other Available Formats:
E-book
September 16, 2011
The End of Progress: How Modern Economics Has Failed Us
Connect with Wiley Publicity
"We should blame the economists for their sloppy thinking and the politicians for selling us such twaddle."
Modern economic ideas caused the financial crisis. They are the cause of over-population and our unsustainable use of the world's resources. They have encouraged a culture of extreme-individualism and weakened many democratic principles. They have made growth, and the debt-fueled consumption it depends upon, a pointless and wasteful goal.
So claims Graeme Maxton in this wonderfully entertaining, engaging and straight-talking book. As a result of our obsessive focus on economic growth and an unquestioning belief in the power of the market he says, modern ideas of "progress" are leading us badly astray.
Maxton explains how many of our recent achievements are being increasingly overshadowed by our failings. Although we have experienced the fastest economic growth in decades, have higher life-expectancies, better standards of nutrition and improved human rights, we are on an unstable and risky path, he claims.
Most of the economic growth of the last 30 years has been fueled by borrowing which has left us a mountain of debt and will constrain us for years to come, he asserts. Although hundreds of millions of the world's poorest people saw their standards of living rise for a while, the financial crisis means they are now right back where they started. The gap between rich and poor has widened almost everywhere. Even the prospects for China, the world's most vigorous economic engine, are waning.
More troublesome, Maxton claims, is that we are running up against other constraints. We are confusing freedom and individualism, preferring short-term gain to healthy long-term development. Educational standards are falling in many places. The Internet is addling our minds. Both make it harder for us to think about the challenges we face. Even fundamental principles of charity, democracy and justice are being undermined. Most worrying of all, our use of some of the world's resources is becoming unsustainable. We are under-pricing the world's raw materials and wasting them. This encourages us to empty the oceans, pollute the skies and destroy the rainforests without much thought for the consequences. We are making the environment pay for our progress. Unless we take a different approach, we will "leave our grandchildren a wasteland", he says.
All of these troubles are down to sloppy economic thinking, claims Maxton.
With a panoramic sweep through 200 years of history, he contrasts our current approach to economics and social development with the time of the Enlightenment in Europe and America. He shows how the solid principles espoused by thinkers such as Adam Smith and the spirit of intellectual curiosity and openness of the time, have been progressively trashed during the last 30 years.
Without a major rethink in our approach to the world, we face the end of this precious growth, and the end of what we now regard as progress. Instead, Maxton claims, we can look forward to a time of greater poverty, increasing conflict and falling life expectancies. Standards of living will decline in the US and Europe. In Africa, Asia and the Middle East, dreams of progress will not come true.
In the concluding chapters of this thought-provoking and important book, Maxton looks at another way forward. He believes we need to reform our ideas about the free market, competition, regulation and trade. Ultimately, he says, we need to put good society, not just dollars and cents, back at the core of all our aspirations and ideals.