The Secret Army: Chiang Kai-shek and the Drug Warlords of the Golden Triangle
ISBN: 978-0-470-83018-5
384 pages
October 2011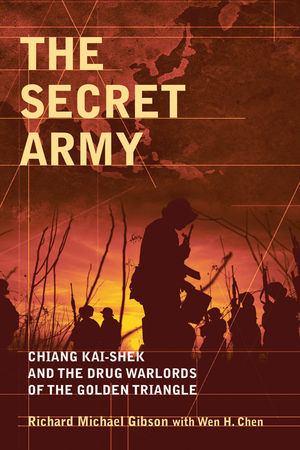 The incredible story of how Chiang Kai-shek's defeated army came to dominate the Asian drug trade
After their defeat in China's civil war, remnants of Chiang Kai-shek's armies took refuge in Burma before being driven into Thailand and Laos. Based on recently declassified government documents, The Secret Army: Chiang Kai-shek and the Drug Warlords of the Golden Triangle reveals the shocking true story of what happened after the Chinese Nationalists lost the revolution. Supported by Taiwan, the CIA, and the Thai government, this former army reinvented itself as an anti-communist mercenary force, fighting into the 1980s, before eventually becoming the drug lords who made the Golden Triangle a household name.
Offering a previously unseen look inside the post-war workings of the Kuomintang army, historians Richard Gibson and Wen-hua Chen explore how this fallen military group dominated the drug trade in Southeast Asia for more than three decades.
Based on recently released, previously classified government documents
Draws on interviews with active participants, as well as a variety of Chinese, Thai, and Burmese written sources
Includes unique insights drawn from author Richard Gibson's personal experiences with anti-narcotics trafficking efforts in the Golden Triangle
A fascinating look at an untold piece of Chinese—and drug-running—history, The Secret Army offers a revealing look into the history of one of the most infamous drug cartels in Asia.
See More
Introduction: Two Young Chinese Soldiers vii
Glossary of Key Players xiii
List of Abbreviations xvii
Chapter 1: Retreat from Yunnan 1
Chapter 2: Sorting Things Out in Tachilek 15
Chapter 3: Lieutenant General Li Mi 29
Chapter 4: Li Mi and His American Friends 45
Chapter 5: Li Mi's Yunnan Anticommunist National Salvation Army 57
Chapter 6: Attacking Yunnan 69
Chapter 7: Washington Opts Out 87
Chapter 8: Li Mi's Army Settles into Burma 97
Chapter 9: Washington Cuts Its Losses 113
Chapter 10: Southern Strategy and Karen Allies 121
Chapter 11: The Road to the United Nations 131
Chapter 12: The United Nations vs. KMT Duplicity 139
Chapter 13: First Evacuation from Burma 153
Chapter 14: Liu Yuan-lin's Yunnan Anticommunist Volunteer Army 165
Chapter 15: A Resurgent KMT 181
Chapter 16: Operation Mekong: Sino-Burmese Forces Rout the KMT 191
Chapter 17: Air Battle Over Burma and American Weapons 205
Chapter 18: The Second KMT Evacuation 213
Chapter 19: Removing KMT Remnants from Laos 225
Chapter 20: Nationalist Chinese Armies in Thailand 235
Chapter 21: Thailand's Troublesome Guests 251
Chapter 22: Intelligence Bureau of the Ministry of National Defense 265
Chapter 23: Resettlement in Thailand 281
Chapter 24: Soldiering on for Thailand 293
Chapter 25: Postscript 305
Bibliography 309
Index 329
See More
Buy Both and Save 25%!
The Secret Army: Chiang Kai-shek and the Drug Warlords of the Golden Triangle (US $34.95)
-and- The Malays (US $35.95)
Total List Price: US $70.90
Discounted Price: US $53.17 (Save: US $17.73)
Cannot be combined with any other offers. Learn more.