Textbook
Introduction to Business Information Systems, Canadian Edition
ISBN: 978-0-470-84030-6
Paperback
June 2007, ©2007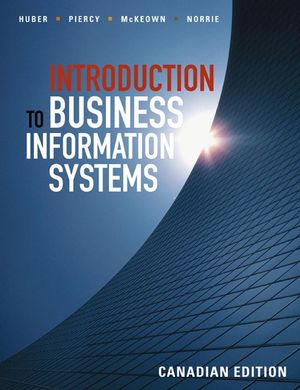 This product is not currently available for purchase from this website.
For customer care, special sales, or to find your rep, please visit our
Contact Us
page.
Part One: The Individual Perspective.
1. Introduction to Information Systems.
2. Information Technology Fundamentals.
3. Doing Knowledge Work to Create Business Value.
Part Two: The Organizational Perspective.
4. Business Fundamentals and IT Strategy.
5. IT for the Organization.
6. Creating Connected Solutions Through IS.
Part Three: The Business Partner Perspective.
7. E-Commerce for Consumers and Organizations.
8. E-Commerce Technologies.
9. The Connected Enterprise: Partnering and Protecting.
Tech Guide A: The Details of IT Hardware.
Tech Guide B: The Details of Software.
Tech Guide C: The Details of Networking.
Tech Guide D: The Details of SQL, Logical Modeling, and XML.
Tech Guide E: The Technology of Teams.