Textbook
XML in Theory and Practice
ISBN: 978-0-470-84344-4
482 pages
July 2003, ©2003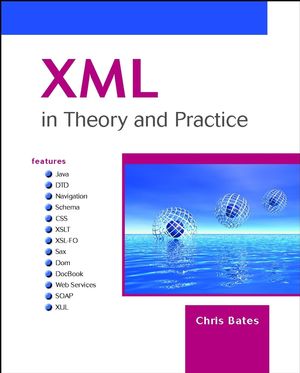 XML is a powerful cross-platform mark-up language which has readily been adopted as a standard in many spheres of web and software development. Real benefits include its ease of integration into existing systems, the simplicity of using it in object-oriented environments and its wide applicability. Chris Bates shows how to use XML in modern software developments and backs up a thorough treatment of its key points with clear, practical examples.
Programmers and developers wanting both A-Z coverage and a practical how-to, will find stepwise guidance on: creating data, storage formats, implementing interfaces, providing a wireless protocol in distributed applications (SOAP), and creating inter-mediate data formats on the web.
Chris Bates provides live code in Java to show how XML can be employed in the development of applications and also provides details of how XML parsers work. You will learn more than simply how XML operates. You'll gain insight and understanding of the concepts, their importance and their application. Problems and exercises are provided and make the book ideal for self-study or classroom situations. With an accompanying website containing code samples and links to important websites, XML in Theory and Practice is a must-have primer on the subject.
Accompanying website: homepages.shu.ac.uk/~cmscrb/xml/
See More
1 Introduction 1
Part I Extensible Markup Language
2 Writing XML 13
2.1 A First Example 14
2.2 Why Not Use HTML 15
2.3 The XML Rules 18
2.4 Parsing XML Rules 29
2.5 The Recipe Book 34
2.6 The Business Letter 38
3 Document Type Definitions 43
3.1 Structure 44
3.2 Elements 44
3.3 Attributes 47
3.4 Entities 48
3.5 Notations 51
3.6 Using DTDs 52
3.7 The Recipe Book 54
3.8 Business Letter 57
4 Specifying XML Structures Using Schema 61
4.1 Namespaces 63
4.2 Using Schemas 66
4.3 Defining Types 71
4.4 Data In Schema 78
4.5 Compositors 82
4.6 Example Schema 90
Part II Formatting XML for Display and Print
5 Cascading Style Sheets 103
5.1 CSS and HTML 104
5.2 CSS and XML 108
5.3 Defining Your Own Styles 110
5.4 Properties and Values in Styles 113
5.5 A Stylesheet For The Business Letter 119
6 Cascading Stlye Sheets Two 123
6.1 The Design Of CSS2 124
6.2 Styling For Paged Media 126
6.3 Using Aural Presentation 130
6.4 Counters And Numbering 134
7 Navigating within and between XML Documents 139
7.1 XPath 140
7.2 XLink 154
7.3 XPointer 166
8 XSL Transformation Language 169
8.1 Introducing XSLT 170
8.2 Starting the Stylesheet 174
8.3 Templates 175
8.4 XSL Elements 177
8.5 XSL Functions 179
8.6 Using Variables 182
8.7 Parameter Passing 184
8.8 Modes 186
8.9 Handling Whitespace 187
9 XSLT in Use 197
9.1 The Recipe Book 198
9.2 The Business Letter 208
10 XSL Formatting Objects 219
10.1 Document Structure 221
10.2 Processing XSL-FO 224
10.3 Formatting Object Elements 227
10.4 The Recipe Book 250
Part III Handling XML in Your Own Programs
11 Java and XML 263
11.1 Java Packages for Processing XML 267
12 The Document Object Model 275
12.1 The W3C Document Object Model 276
12.2 The Xerces DOM API 279
12.3 Using the DOM to Count Nodes 283
12.4 Using the DOM to Display a Document 286
13 The Simple API for XML 289
13.1 The SAX API 291
13.2 A Sax Example 299
Part IV Some Real-World Applications of XML
14 Introducing XHTML 309
14.1 XHTML Document Type Definitions 311
14.2 An XHTML Primer 312
14.3 The Rules of XHTML 325
15 Web Services – The Future of the Web? 329
15.1 Some Typical Scenarios 330
15.2 Semantic Web 333
15.3 Resource Description Framework 335
15.4 Web Services 340
16 Distributed Applications with SOAP 351
16.1 An Overview of SOAP 352
16.2 Programming SOAP in Java 362
16.3 Accessing Recipes 372
17 DocBook 381
17.1 Introducing DocBook 382
17.2 Creating DocBook Documents 383
17.3 Styling DocBook Documents Using DSSSL 395
17.4 Styling DocBook Documents Using XSL 399
18 XUL 403
18.1 Introducing XUL 404
18.2 The XUL Widgets 407
18.3 Using XUL 417
References 421
Appendix A Business Letter in XML 425
Appendix B Recipe Book in XML 429
Appendix C Business Letter Schema 437
Appendix D Recipe Book Schema 443
Appendix E Business Letter Formatting Object Stylesheet 447
Appendix F Recipe Formatting Object Stylesheet 455
Index 461
See More
Suitable for self study and classroom situations
Manageable level of detail
A best-selling author with experience of covering a vast topic in a managable way
See More