Encyclopedia of Biostatistics, 8 Volume Set, 2nd Edition
ISBN: 978-0-470-84907-1
6100 pages
April 2005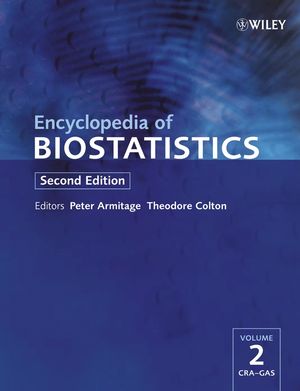 The first edition of the Encyclopedia of Biostatistics proved an outstanding achievement in scientific publishing. A truly international work, its coverage ranges through statistical issues pertinent to life scientists, healthcare professionals and practising statisticians.
Wiley is now pleased to announce the Second Edition of this landmark reference work publishing in February 2005.  Drawing on the expertise of the original editorial team the new edition will be revised and expanded to provide, in particular, up-to-date material on bio-informatics and statistical genetics.
This major publication is easily accessible for all those involved in statistical activities in medicine and health sciences, from health professionals who are not highly trained in statistics, through to fully qualified and experienced statisticians.
For further information on this new edition please visit: www.wileyeurope.com/go/eob
Reviews of the First Edition
"…a resource beyond compare...the author index reads like a contemporary Who's Who...nothing in biostatistics is left uncovered...unsurpassed in quality and quantity"
—British Medical Journal
"An unsurpassed addition to the statistical literature …The present scope of statistics in medical research is nowhere more manifest …the coverage is breathtaking"
—International Journal of Epidemiology
See More
"…represents the contributions of the very best expertise in the field of biostatistics. For the benefit of the profession, this outstanding resource should be available to the widest possible audience." (
Journal of the American Statistical Association
, June 2006)
"Although the editors admit that comprehensive coverage is impossible, they have made a masterful attempt to achieve it. Over 300 articles have been revised…with 120 additional articles…highly recommended." (CHOICE, November 2005)
"...I hope and trust this encyclopedia will find its way into many institutional libraries..."  (Genes, Brains and Behavior, 6:304 2007)
See More