Quest: The Essence of Humanity
ISBN: 978-0-470-85145-6
432 pages
August 2004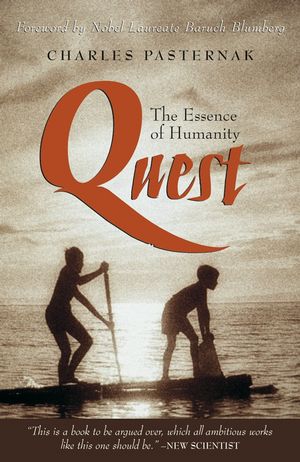 An intriguing work of history, philosophy, and popular science that explores the human desire to quest.
Scientists continually look for the genetic factors that make humans so very different in appearance and behaviour from most animals - the genes that are uniquely human. Respected biochemist and author Charles Pasternak argues that such genes do not exist. Instead, he suggests that it is our desire to quest - for food and shelter, for knowledge, for wealth, for adventure - coupled with our unique physical abilities to do so that have controlled our evolution and have led humans to develop away from closely related animals.
In this intriguing work of history, philosophy, and popular science, Pasternak uses his extensive biological knowledge to discuss man's nature and achievements, his genetic makeup, and his evolution.
See More
Illustrations.
Foreword.
Acknowledgements.
1. Prologue.
PART I: EVOLUTION: THE GENETIC BASIS OF QUEST.
2. Unity and diversity in living organisms.
3. Plants and microbes: the origin of vision.
4. Animals and man: development of human attributes.
PART II: DOMINATION: THE CONSEQUENCES OF HUMAN QUEST.

5. Out of Africa: exploration and expansion.
6. The ladder: adversity and achievement.
7. Civilisation1: towns and temples.
8. Civilisation 2: communication and culture.
9. Technology: war and welfare
10. Religion: belief and dogma.
11. Science: explanation and experimentation.
PART III: CONTROVERSY: CURRENT QUEST.
12. Tinkering with genes1: GM foods.
13. Tinkering with genes 2: GM people.
PART IV: SPECULATION: A GLIMPSE INTO THE FUTURE.
14. Extinction or survival of Homo quaerens?
15. Epilogue.
Bibliography.
Glossary.
Index.
See More
Charles A. Pasternak
is a biochemist and founding Director of the Oxford International Biomedical Centre. His previous academic experience has included research and teaching posts at the universities of Oxford, London (St George's Medical School), Yale and California (UCSD Medical School). While at St George's Medical School, he was founder and Chairman of the Department of Biochemistry, which he later expanded into the Department of Cellular and Molecular Sciences.
Charles Pasternak is acclaimed for his pioneering work in membrane research and is a tireless promoter of international collaboration, working with UNESCO, IUBMB and universities worldwide. He is the author of a number of books and is editor-in-chief of a scientific journal. He has recently turned his attention to communicating scientific subjects to a broader readership.
Charles comes from a highly talented family. He is nephew of Boris Pasternak, author of Doctor Zhivago, and grandson of Leonid Pasternak, the Russian Impressionist painter.
See More