Software
TCP/IP Essentials CD-ROM
ISBN: 978-0-470-85352-8
January 2003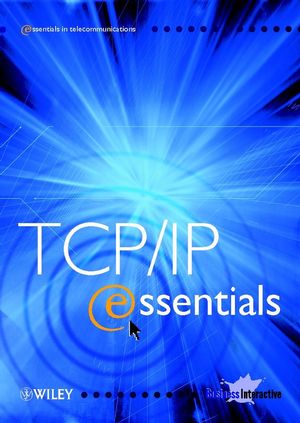 Developing your expertise through e-learning...
To see a demo go to www.business-interactive.com/wiley/demo.htm
WHAT ARE ESSENTIALS IN TELECOMMUNICATIONS?
A series of multimedia web-based training courses designed to develop your understanding of communications technology.
ATM Essentials
GSM Essentials
GPRS Essentials
UMTS Essentials
TCP/IP Essentials
Simple and easy-to-use, each module introduces the fundamentals of the topic and then, step-by-step increases your knowledge-base through a dynamic combination of audiovisual content, including audio commentary, diagrams, pop-up text boxes and practical hands-on interactive sessions and exercises.
Flexible and easy-to-follow, each module allows you to train at your own pace and plan your time according to your workload. Each training course lasts approximately 4 hours but you can access each course at any point and repeat any section as many times as you wish.
Cost effective and convenient, Essentials in Telecommunications mean that there is no longer any need to take a day out of your busy work schedule to attend a training course. Concise and informative, each module provides you with all the expertise you need, whenever or wherever you want.
WHAT WILL ESSENTIALS IN TELECOMMUNICATIONS ENABLE ME TO DO?
Essentials in Telecommunications give you all the technical know-how to:
Understand the basic technologies underlying each system
Develop, implement and manage your services more efficiently
Sell and promote your products more confidently and effectively
THIS MODULE: TCP/IP Essentials
Covers the basics of the Internet protocol and how it is used in packet-switched telecommunications networks.
Introduction to TCP/IP
Link Layer Technologies
IP-Addressing
Internet Layer Protocols
Transport Layer Protocols
Application Layer Protocols
Internet Access
Duration : 4 hr module
WHAT DO I NEED TO USE ESSENTIALS IN TELECOMMUNICATIONS?
All you need to get started is a computer with a CD-ROM drive, web browser and Internet access. There is no need to install any special software and the system is compatible with most operating systems (Windows, Unix, etc.) Although not essential, a soundcard will enhance the learning experience of the product.
See More
Chapter 1: System Requirements.

1.1 Windows.

1.2 UNIX.

1.3 General Information.

1.4 Downloads.

Chapter 2: Starting the Essentials.

2.1 Automatically Start.

2.2 Installation not Necessary.

2.3 Terminate the Essentials.

Chapter 3: First Steps in the Essentials.

3.1 'User Terms of Service Agreement' Page.

3.2 ESSENTIALS Window.

3.3 Control Bar.

3.4 Module Overview.

3.5 Presentations.

3.6 Exercises.

3.7 Further Features.

Chapter 4: Contents of the TCP/IP Essentials.

4.1 Module 1: Introduction.

4.2 Module 2: Link Layer Technologies.

4.3 Module 3: IP Addressing.

4.4 Module 4: Internet Layer Protocols.

4.5 Module 5: Transport Layer Protocols.

4.6 Module 6: Application Layer Protocols.

4.7 Module 7: Internet Access.

Chapter 5: Glossary.

Chapter 6: License Agreements.

6.1 Copyright.

6.2 Rules of Use.

6.3 Additional Terms.

6.4 Warranty Limitations.
See More
TCP/IP ESSENTIALS Online Demonstration
The demo includes:
An interactive sample chapter from each of the modules
A fully searchable contents listing for each module
Try the demo today and see what essentials in telecommunications can do for you...
See More