Retinal Dystrophies: Functional Genomics to Gene Therapy, Number 255
ISBN: 978-0-470-85357-3
Hardcover
226 pages
January 2004
US $205.00

Add to Cart
This price is valid for United States. Change location to view local pricing and availability.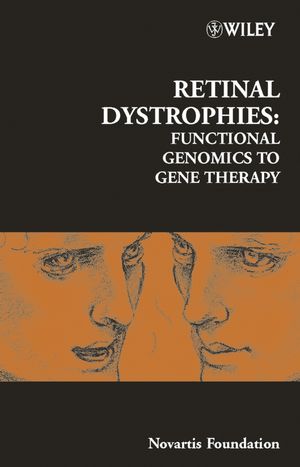 Other Available Formats:
E-book
Chair's Introduction (
Shomi S Battacharya
).
Gene therapy of retinal dystrophies: Achievements, challenges and prospects (Dean Bok).
Identifying retinal disease genes: how far have we come, how far do we have to go? (Stephen P Daiger).
Dominant cone and cone-rod dystrophies: functional analysis of mutations in regGC1 and GCAP1 (David Hunt, Susan E Wilkie, Richard Newbold, Evelyne Deery, Martin J Warren, Shomi S Battacharya, and Kang Zhang).
Isotretinoin treatment inhibits lipofuscin accumulation in a mouse model of recessive Stargardt's macular degeneration (Roxana A Radu, Nathan L Mata, Steven Nusinowitz, Xinran Liu, and Gabriel H Travis).
The expanding roles of ABCA4 and CRB1 in inherited blindness (F P M Cremers, A Maugeri, A I den Hollander, and C B Hoyng).
What should a clinician know to be prepared for the advent of treatment of retinal dystrophies? (Alan C Bird).
Role of subunit assembly in autosomal dominant retinitis pigmentosa link ed to mutations in perpherin 2 (Robert S Molday, Laurie L Molday, and Christopher J R Loewen).
The search for rod-dependent cone viability factors, secretedd factors promoting cone viability (Thierry Leveillard, Saddek Mohand-Said, Anne-Claire Fintz, George Lambrou, and Jose-Alain Sahel).
Studies on retinal and retinal pigment epithelial gene expression (Itay Chowers, Noriko Esumi, Peter Campochiaro, and Donald J Zack).
From disease genes to cellular pathways: a progress report (J Yu, A J Mears, S Yoshida, R Farjo, T A Carter, D Ghosh, A Hero, C Barlow, and A Swaroop).
Prospects for gene therapy (Robin R Ali).
Range of retinal diseases potentially treatable by AAV-vectored gene therapy (William S Hauswirth, Quihong Li, Brian Raisler, Adrian M Timmers, Kenneth I Berns, John G Flannery, Matthew M LaVail, and Alfred S Lewin).
Gene therapy for Leber congenital amaurosis (Jean Bennett).
Index of Contributors.
Subject Index.