Agricultural Development Policy: Concepts and Experiences
ISBN: 978-0-470-85778-6
540 pages
February 2004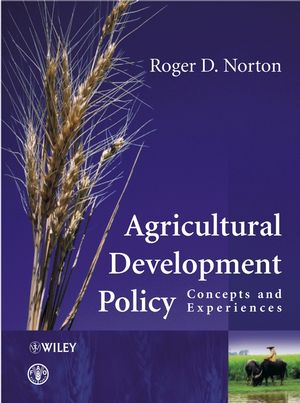 Prepared under the aegis of the Food and Agriculture Organization of the United Nations (FAO), this text presents a fresh and comprehensive look at agricultural development policy. It provides a clear, systematic review of important classes of policy issues in developing countries and discusses the emerging international consensus on viable approaches to the issues.
The text is unique in its coverage and depth and it:
Summarises hundreds of references on agricultural development policies
Cites policy experiences and applied studies in more than 70 countries
Provides guidance for policy makers giving examples of successes and failures
Reviews issues related to the formulation of strategies and the requirements for making them successful
Develops the conceptual foundations and illustrates policies that have worked, and some that have not, with explanations
 Topics covered include agriculture's role in economic development, the objectives and strategies of agricultural policy, linkages between macroeconomic and agricultural policy, policies for the agricultural financial system and agricultural technology development.
Upper level undergraduates taking courses in Economic Development and International Development and graduates taking courses in Agricultural Development, International and Economic Development, Natural Resource Management and specialised topics in agriculture will find this text of great interest. It also serves as a reference for professionals and researchers in the field of International Development.
See More
Foreword ix
Acknowledgements xi
Introduction 1
1 Agriculture and Economic Development: Basic Considerations 3
1.1 Beginnings 3
1.2 The Agricultural Sector and Economic Growth 4
1.3 Agricultural Growth and Poverty Reduction 9
Discussion Points for Chapter 1 12
2 Strategies and the Agricultural Policy Framework 15
2.1 Strategies and Policies 15
2.2 The Nature of Agricultural Policy Instruments 19
2.3 Objectives of Agricultural Policy 22
2.4 The Role of Government 25
2.5 Implementation of Strategies and Policies 30
Discussion Points for Chapter 2 32
3 Broad Issues of Agricultural Policy 35
3.1 Agricultural Policy and the Macroeconomic Framework 35
3.2 Fiscal Expenditures and Subsidies 37
3.3 Improving the Incomes of the Rural Poor 44
3.4 Gender and Agricultural Development 46
3.5 Selected Issues in Privatization 48
3.6 Principal Aspects of the Legal Framework 51
Discussion Points for Chapter 3 53
4 Policies that Influence Producer Incentives 55
4.1 The Setting 55
4.2 Agricultural Prices and Their Determinants 56
4.3 Trade Policy 58
4.4 Exchange Rate Policy 74
4.5 Fiscal Policy and Agricultural Prices 80
4.6 Macroeconomic Policy Options for Agriculture 82
4.7 Sectoral Policies that Influence Agricultural Prices 86
4.8 Food Security, Agricultural Prices and the Rural Poor 98
4.9 Observations on Price Stabilization and Agricultural Development 103
Discussion Points for Chapter 4 104
5 Land Tenure Policies 109
5.1 Introduction 109
5.2 The Importance of Land Tenure 110
5.3 Objectives of Land Tenure Policies 111
5.4 Overview of Issues and Trends concerning Land Tenure 116
5.5 The Nature of Land Rights 121
5.6 Communal, Collective and Individual Rights to Land 130
5.7 Experiences with Land Reform 142
5.8 Policies for Land Markets 149
5.9 Improving Access to Land for the Poor and for Women 176
Discussion Points for Chapter 5 191
6 Water Management Policies in Agriculture 197
6.1 Introduction 197
6.2 Policy Objectives for the Irrigation Sector 203
6.3 Strategic Planning for Irrigation as Part of Water Resource Management 207
6.4 Strategic Issues in Irrigation Development 211
6.5 Principal Policy Issues in the Irrigation Sector 223
6.6 Institutional and Process Issues in Water Management 248
6.7 Irrigation as a Tool of Rural Development 269
Discussion Points for Chapter 6 271
7 Policies for Agricultural and Rural Finance 277
7.1 The Role of Finance in Agricultural Development 277
7.2 Policy Objectives for Rural Finance 287
7.3 Keys to the Sustainability and Efficiency of Financial Intermediation 295
7.4 The Regulatory Framework for Rural Finance 300
7.5 Structural Considerations for Rural Financial Institutions 317
7.6 Approaches to Managing Rural Financial Institutions 330
7.7 Macroeconomic Policy to Support Rural Financial Intermediation 340
7.8 Elements of a Strategy for Developing Rural Finance 346
Discussion Points for Chapter 7 351
8 Policies for Agricultural Technology 357
8.1 Introduction: The Role and Context of Agricultural Technology 357
8.2 Issues in Agricultural Research 363
8.3 Issues in Agricultural Extension 375
8.4 New Directions in Agricultural Research 390
8.5 New Approaches to Agricultural Extension 404
Discussion Points for Chapter 8 420
9 Agricultural Development Strategies: Process and Structure 425
9.1 The Roles of an Agricultural Strategy 425
9.2 Participatory Processes for Developing Strategies 428
9.3 Structure and Consistency in a Strategy 442
9.4 Substantive Orientations of an Agricultural Strategy 450
9.5 Rural Development and Poverty Alleviation 460
9.6 Implementation of a Strategy 474
9.7 Concluding Observations 475
Discussion Points for Chapter 9 476
Annex: National Economic Policies and Irrigation in Yemen 483
1 Water in Yemen's Development Process 483
2 Demand Management vs. Water Supply Options 484
3 The Origins of the Water Crisis 485
4 Principal Policy Instruments Available for Water Demand Management 486
5 Bearing the Costs of Change 487
6 Schematic Presentation of Policy Options 488
7 Fiscal and Strategic Issues 488
8 Summary 490
Index 493
See More
Covers important classes of policy issues and strategic considerations of the economical development, water management, legislation and technology in agriculture
Provides clear systematic guidance for policy makers giving global examples of successes and failures
See More
Buy Both and Save 25%!
Agricultural Development Policy: Concepts and Experiences (US $296.95)
-and- Economic Geology: Principles and Practice (US $106.95)
Total List Price: US $403.90
Discounted Price: US $302.92 (Save: US $100.98)
Cannot be combined with any other offers. Learn more.