Core Concepts in Supramolecular Chemistry and Nanochemistry
ISBN: 978-0-470-85866-0
320 pages
June 2007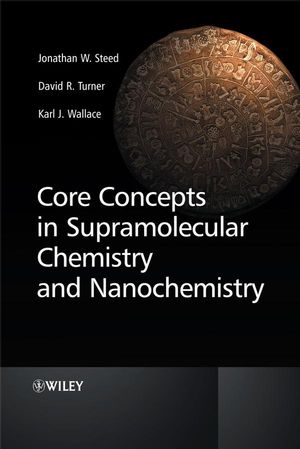 Supramolecular chemistry and nanochemistry are two strongly interrelated cutting edge frontiers in research in the chemical sciences. The results of recent work in the area are now an increasing part of modern degree courses and hugely important to researchers.
Core Concepts in Supramolecular Chemistry and Nanochemistry clearly outlines the fundamentals that underlie supramolecular chemistry and nanochemistry and takes an umbrella view of the whole area. This concise textbook traces the fascinating modern practice of the chemistry of the non-covalent bond from its fundamental origins through to it expression in the emergence of nanochemistry.
Fusing synthetic materials and supramolecular chemistry with crystal engineering and the emerging principles of nanotechnology, the book is an ideal introduction to current chemical thought for researchers and a superb resource for students entering these exciting areas for the first time. The book builds from first principles rather than adopting a review style and includes key references to guide the reader through influential work. 
supplementary website featuring powerpoint slides of the figures in the book
further references in each chapter
builds from first principles rather than adopting a review style
includes chapter on nanochemistry clear diagrams to highlight basic principles
See More
Preface.
About the authors.
1 Introduction.
1.1 What is supramolecular chemistry?
1.2 Selectivity.
1.3 Supramolecular interactions.
1.4 Supramolecular design.
References.
Suggested further reading.
2 Solution host–guest chemistry.
2.1 Introduction: guests in solution.
2.2 Macrocyclic versus acyclic hosts.
2.3 Cation binding.
2.4 Anion binding.
2.5 Metal-containing receptors.
2.6 Simultaneous cation and anion receptors.
2.7 Neutral-molecule binding.
2.8 Supramolecular catalysis and enzyme mimics.
References.
3 Self-assembly.
3.1 Introduction.
3.2 Biological self-assembly.
3.3 Ladders, polygons and helices .
3.4 Rotaxanes, catenanes and knots.
3.5 Self-assembling capsules.
References.
4 Solid-state supramolecular chemistry.
4.1 Introduction.
4.2 Zeolites.
4.3 Clathrates.
4.4 Clathrate hydrates.
4.5 Crystal engineering.
4.6 Coordination polymers.
References.
5 Nanochemistry.
5.1 Introduction.
5.2 Nanomanipulation.
5.3 Molecular devices.
5.4 Self-assembled monolayers (SAMs).
5.5 Soft lithography.
5.6 Nanoparticles.
5.7 Fullerenes and nanotubes.
5.8 Dendrimers.
5.9 Fibres, gels and polymers.
5.10 Nanobiology and biomimetic chemistry.
References.
Index.
See More
Jonathan W. Steed
was born in Wimbledon, UK in 1969. He obtained his B.Sc. and Ph.D. degrees at University College, London, working with Derek Tocher on coordination and organometallic chemistry directed towards inorganic drugs and new metal-mediated synthesis methodologies. He graduated in 1993, winning the Ramsay Medal for his Ph.D. work. Between 1993 and 1995, he was a NATO postdoctoral fellow at the University of Alabama and University of Missouri, working with Professor Jerry L. Atwood, where he developed a class of organometallic supramolecular hosts for anions. In 1995, he was appointed as a Lecturer at King's College, London where he built up a reputation for supramolecular chemistry, including anion binding and sensing, and crystal engineering studies using strong and weak hydrogen bonds. In 1998, he was awarded the Royal Society of Chemistry Meldola Medal and was promoted to Reader in 1999. In 2004. he was appointed as Reader in Inorganic Chemistry at the Unviersity of Durham and was elected FRSC in 2005. Dr. Steed is co-author of the textbook
Supramolecular Chemistry
(2000) and more than 200 research papers. He has published a large number of reviews, book chapters and popular articles, as well as a major edited work, the
Encyclopedia of Supramolecular Chemistry
(2004). He has been an Associate Editor of the
New Journal of Chemistry
since 2001.
David R. Turner was born in London, UK in 1979. He obtained his M.Sci. in Chemistry at King's College, London where he became interested in crystal nucleation and organimetallic anion sensors. He stayed on to do a Ph.D. with Jonathan Steed at King's College and at Durham University, on urea-functionalised anion receptors, including tripodal organic host species and molecular tweezers. His work also involved aspects of crystal engineering and solid state phenomena involving transition metal/ureido systems. He graduated in 2004. In January 2005, he changed countries and disciplines to begin a post-doctoral position at Monash University, Melbourne, Australia with Professor Junk and Professor Glen Deacon, working on the synthesis and structural characterization of novel lanthanoid – pyrazolate complexes. In January 2006, he was awarded an Australian Research Council post-doctoral fellowship in collaboration with Dr. Stuart Batten at Monash University. His current research is focused on the synthesis and control of lanthanoid-containing coordination networks targeting systems and control magnetic properties, in addition to pursuing his interest in hydrogen bonding networks. Dr. Turner is the co-author of 20 scientific papers and is co-lecturer of the metallo-supramolecular course at his current university.
Karl J. Wallace was born in Essex (a true Essex boy!), UK in 1978. He obtained his B.Sc. at the University of the West of England, Bristol in 1999, where he developed an interest in inorganic chemistry and coordination polymers. He then completed a Ph.D. at King's College, London (2003), working with Jonathan W. Steed on the synthesis and binding studies of hosts for small molecular recognition. In 2003, he moved to the laboratories of Eric V. Anslyn at the University of Texas at Austin, USA as a post-doctoral fellow, synthesizing molecular 'scaffolds' for applications as practical sensor devices. In 2006, he was appointed as an Assistant Professor in Inorganic and Supramolecular chemistry at the University of Southern Mississippi, USA, where his research interests are in supramolecular chemistry, particularly molecular recognition and the synthesis of molecular sensor and devices.
See More
Discusses the highly topical area of nanotechnology
Brings together the many threads of supramolecular chemistry
Includes a supplementary website with downloadable slides of the illustrations and diagrams in the book
Provides key references at the beginning of each section and a comprehensive glossary of terms and definitions at the end of each chapter
First concise text aimed at students
Builds from first principles rather than 'review style'
Clear diagrams to highlight basic principles
See More