Computer-Based Testing and the Internet: Issues and Advances
ISBN: 978-0-470-86192-9
272 pages
December 2005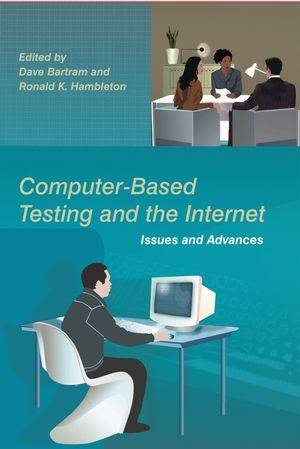 No topic is more central to innovation and current practice in testing and assessment today than computers and the Internet.
This timely publication highlights four main themes that define current issues, technical advances and applications of computer-based testing:
Advances in computer-based testing -- new test designs, item selection algorithms, exposure control issues and methods, and new tests that capitalize on the power of computer technology.
Operational issues -- systems design, test security, and legal and ethical matters.
New and improved uses -- for tests in employment and credentialing.
The future of computer-based testing -- identifying potential issues, developments, major advances and problems to overcome.
Written by internationally recognized contributors, each chapter focuses on issues of control, quality, security and technology. These issues provide the basic structure for the International Test Commission's new Guidelines on Computer-Based Testing and Testing on the Internet. The contributions to this book have played a key role in the development of these guidelines.
Computer-Based Testing and the Internet is a comprehensive guide for all professionals, academics and practitioners working in the fields of education, credentialing, personnel testing and organizational assessment. It will also be of value to students developing expertise in these areas.
See More
About the Editors.
List of Contributors.
Introduction: The International Test Commission and its Role in Advancing Measurement Practices and International Guidelines (Thomas Oakland).
1. Testing on the Internet: Issues, Challenges and Opportunities in the Field of Occupational Assessment (Dave Bartram).
2. Model-Based Innovations in Computer-Based Testing (Wim J. van der Linden).
3. New Tests and New Items: Opportunities and Issues (Fritz Drasgow and Krista Mattern).
4. Psychometric Models, Test Designs and Item Types for the Next Generation of Educational and Psychological Tests (Ronald K. Hambleton).
5. Operational Issues in Computer-Based Testing (Richard M. Luecht).
6. Internet Testing: The Examinee Perspective (Michael M. Harris).
7. The Impact of Technology on Test Manufacture, Delivery and Use and on the Test Taker (Dave Bartram).
8. Optimizing Quality in the Use of Web-Based and Computer-Based Testing for Personnel Selection (Lutz F. Hornke and Martin Kersting).
9. Computer-Based Testing for Professional Licensing and Certification of Health Professionals (Donald E. Melnick and Brian E. Clauser).
10. Issues that Simulations Face as Assessment Tools (Charles Johnson).
11. Inexorable and Inevitable: The Continuing Story of Technology and Assessment (Randy Elliot Bennett).
12. Facing the Opportunities of the Future (Krista J. Breithaupt, Craig N. Mills and Gerald J. Melican).
Index.
See More
Dave Bartram
is Past President of the International Test Commission and is heading ITC projects on international guidelines for standards in test use and standards for computer-based testing and the Internet. He is Chair of the British Psychological Society's Steering Committee on Test Standards and Convenor of the European Federation of Psychologists' Associations Standing Committee on Tests and Testing. He is President-Elect of the IAAP's Division 2.
Professor Bartram is Research Director for SHL Group plc. Prior to his appointment with SHL in 1998, he was Dean of the Faculty of Science and the Environment, and Professor of Psychology in the Department of Psychology at the University of Hull. He is a Chartered Occupational Psychologist, a Fellow of the British Psychological Society (BPS) and a Fellow of the Ergonomics Society. In 2004 he received the BPS award for Distinguished Contributions to Professional Psychology. His specialist area is computer-based testing and Internet assessment systems. Within SHL he is leading the development of their next generation of Internet-based delivery systems and the development of a multi-dimensional generic Competency Framework.
He has published large numbers of popular, professional and academic articles and book chapters, and has been the Senior Editor of the BPS Test Reviews. He has been an editor or co-author of several works including the 1992, 1995 and 1997 BPS Reviews of Psychometric Tests; Organisational Effectiveness: the Role of Psychology (with Ivan Robertson and Militza Callinan, published in 2002 by Wiley) and the BPS Open Learning Programme for Level A (Occupational) Test Use (with Pat Lindley, published by BPS Blackwell in 1994).
Ronald K. Hambleton holds the title of Distinguished University Professor and is Chairperson of the Research and Evaluation Methods Program and Executive Director of the Center for Educational Assessment at the University of Massachusetts, Amherst, in the United States. He earned a B.A. in 1966 from the University of Waterloo in Canada with majors in mathematics and psychology, and an M.A. in 1967 and Ph.D. in 1969 from the University of Toronto with specialties in psychometric methods and statistics. Professor Hambleton teaches graduate-level courses in educational and psychological testing, item response theory and applications, and classical test theory models and methods, and offers seminar courses on applied measurement topics. He is co-author of several textbooks including (with H. Swaminathan and H. Jane Rogers) Fundamentals of Item Response Theory (published by Sage in 1991) and Item Response Theory: Principles and Applications (published by Kluwer in 1985), and co-editor of several books including International Perspectives on Academic Assessment (with Thomas Oakland, published by Kluwer in 1995), Handbook of Modern Item Response Theory (with Wim van der Linden, published by Springer in 1997) and Adaptation of Educational and Psychological Tests for Cross-Cultural Assessment (with Peter Merenda and Charles Spielberger, published by Erlbaum in 2005). His research interests are in the areas of item response model applications to educational achievement and credentialing exams, standard-setting, test adaptation methodology, score reporting and computer-based testing. He has received several honors and awards for his more than 35 years of measurement research including honorary doctorates from Umea University in Sweden and the University of Oviedo in Spain, the 1994 National Council on Measurement in Education Career Award, the 2003 Association of Test Publisher National Award for Contributions to Computer-Based Testing, and the 2005 E. F. Lindquist Award for Contributions to Assessment. Professor Hambleton is a frequent consultant to state departments of education, national government agencies and credentialing organizations.
See More