E-book
Cognitive Behaviour Therapy with Older People
ISBN: 978-0-470-86232-2
232 pages
July 2003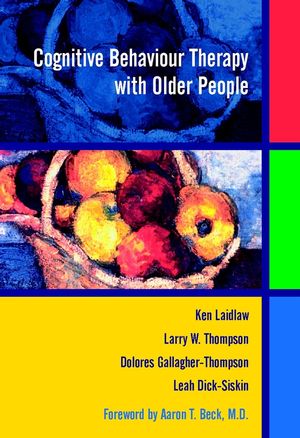 Cognitive Behaviour Therapy (CBT) is now well established as an effective treatment for a range of mental health problems, but for clinicians working with older clients, there are particular issues that need to be addressed.

Topics covered include the need to build a therapeutic relationship, dealing with stereotypical thinking about ageing, setting realistic expectations in the face of deteriorating medical conditions, maintaining hope when faced with difficult life events such as the loss of a spouse, disability, etc., and dealing with the therapist's own fears about ageing.

Illustrated throughout with case studies, practical solutions and with a troubleshooting section, this is essential reading for all clinical psychologists, psychiatrists and related health professionals who work with older people.
* Authors are world authorities on depression and psychotherapy with older people
* First book to be published on CBT with older people
* Case studies and examples used throughout to illustrate the method and the problems of older people
See More
About the Authors.
Preface.
Foreword by Aaron T. Beck.
Section One: Working Effectively with Older People: Knowledge and Skills.
Chapter 1: Basic Gerontology for Cognitive Therapists.
Chapter 2: Psychotherapy with Older People.
Chapter 3: Cognitive-Behavioural Model for Older People.
Section Two: Cognitive Therapy for Late-Life Depression.
Chapter 4: CBT for Late-Life Depressive Disorders.
Chapter 5: Behavioural Techniques.
Chapter 6: Dealing with Negative Thoughts.
Chapter 7: Changing Core Beliefs and Assumptions.
Section Three: Cognitive Therapy with Special Issues.
Chapter 8: Anxiety, Worry, Panic Disorder and Older People.
Chapter 9: Insomnia and Sleep Disorders.
Chapter 10: Physical Illness, Disability and Depression.
Chapter 11: Post-Stroke Depression.
Chapter 12: Depression in Dementia and Family Caregiving.
Section Four: Final Thoughts.
Chapter 13: What to Do When your Patient Says….
Chapter 14: Future Directions and Innovations in Practice.
Appendix 1: Blank Forms. 
Appendix 2: Useful Reference Material.
Appendix 3: Useful Websites.
References.
Author Index.
Subject Index.
See More
"...a coherently argued, well referenced work that successfully champions its case..." (
Mental Health Today
, October 2003)
"…the best available guide to applying CBT to the problems of later life…has much to offer…an excellent review of the field…contains many thought provoking ideas…I recommend it." (Behavioural and Cognitive Psychotherapy, August 2006)
See More