Textbook
Financial Information Analysis, 2nd Edition
ISBN: 978-0-470-86572-9
634 pages
October 2006, ©2006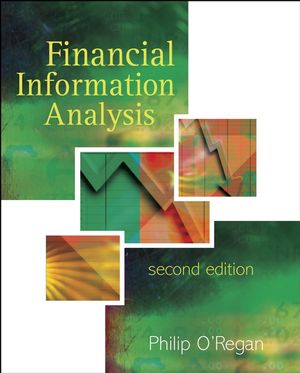 In the book Financial Information Analysis, Philip O'Regan addresses the nature and role of accounting information in modern society and, in particular, focuses on the company annual report. He places the discussion and analysis of the information contained in the annual report in as broad a context as possible.
Readers are reminded of the need to gather additional information in order to properly appreciate the significance of the financial information being interpreted.  Additional insights about companies, markets and information dynamics in general, will often be critical.
The text begins with an identification and discussion of the various contexts within which corporate financial communication should be considered.  The intention is to challenge readers to consider the various forces and influences that have conjoined to produce financial information in the forms in which it currently emerges.
Separate chapters are devoted to regulatory and legislative contexts; conceptual context; theoretical context; governance context.  In discussing these, particular attention is paid to international issues and developments. 
See More
Preface.
Introduction.
SECTION I: CONTEXTS.
Chapter 1: Regulatory and Legislative Contexts.
Chapter 2: Conceptual Context.
Chapter 3: Theoretical Context.
Chapter 4: Governance Context.
SECTION II: CONTENT.
Chapter 5: Narrative Reports.
Chapter 6: Financial Statements.
SECTION III: ANALYSIS.
Chapter 7: Fundamental Analysis.
Chapter 8: Activity and Liquidity.
Chapter 9: Financing. 
Chapter 10: Profitability and Return on Investment.
SECTION IV: ISSUES.
Chapter 11: Business Combinations.
Chapter 12: Pensions, Share Options, Leases, Taxation and Foreign Currency.
Chapter 13: Creative Accounting.
Chapter 14: Corporate Social Reporting (CSR).
Chapter 15: International Accounting and Harmonization.
SECTION V: INTERPRETATION.
Chapter 16: Tesco plc 2005.
SECTION VI: CHALLENGES AND OPPORTUNITIES.
Chapter 17: Alternative Approaches.
Chapter 18: Future Reporting.
Appendix I: Annual Report and Financial Statements 2005.
Appendix II: IFRS Restatement.
Index.
See More
Dr Philip O'Regan is a qualified Accountant who has worked for over a decade in a number of public accountancy practices. Since 1988 he has lectured in financial information analysis, financial accounting and corporate governance at the University of Limerick, and is head of the Accounting & Finance department.
See More
Chapters on creative accounting, corporate governance and regulatory structures have been significantly updated

Completely revised to embrace the changed regulatory environment, including IFRS

The Companion Website includes a Report containing an analysis and interpretation of the Tesco 2006 Annual Report.
See More
Emphasizes the role of accounting information systems as an aid to the decision-making process.
Key issues are illustrated through references to the Tesco annual report for 2005, which is included together with the IFRS Restatement, as appendices.
Numerous extracts from newspapers, journals and websites reinforce points made in the text and also serve to provide alternative viewpoints

End of chapter case studies allow readers to investigate particular events and companies in more detail.

Readers are not immediately confronted with masses of technical information.
See More