E-book
Virtual Team Success: A Practical Guide for Working and Leading from a Distance
ISBN: 978-0-470-87241-3
224 pages
September 2010, Pfeiffer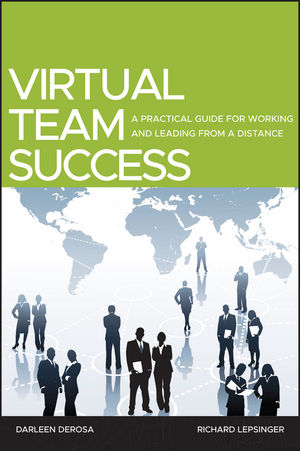 Praise for Virtual Team Success
"There's no school for this yet, but when the first is established, Virtual Team Success: A Practical Guide for Working and Leading from a Distance will certainly be the core curriculum."
—Jessica Lipnack and Jeffrey Stamps, CEO and co-founders, NetAge
"Virtual Team Success is a must have for anyone managing geographically-dispersed teams. DeRosa and Lepsinger bring experience and credentials to guide us all through the labyrinth of problems that so often derail virtual teams. As our global businesses become increasingly complex, I can't imagine a more timely or better resource."
—Jay Moldenhauer-Salazar, vice president, talent management, The Gap
"For global teams that want to be top-performing, Virtual Team Success should be their team handbook. It's loaded with tools, checklists, models, and practical recommendations for working and leading from a distance. This is the kind of book virtual teams really need to be successful. I've been waiting for a book like this and look forward to recommending it as a resource that can help improve the performance of our teams!"
—Kathleen McGuire, manager organizational development, Bayer Healthcare HR Global Leadership Development
"Virtual teams are intended to make optimal use of expertise spread across the world, but performance excellence is the exception and mediocrity the rule. After extensive and careful study of real teams, DeRosa and Lepsinger have captured essential information, principles of operation, and tools in a highly readable volume that can help thoughtful readers elevate the performance of the teams significantly. The practical focus, collection of techniques and tools, and "how to" tips provide an essential foundation for anyone with virtual team responsibility. The organization of the book centered around challenges, differentiators, and lessons will facilitate finding answers to any problem the team faces. The RAMP model makes it easy to focus on what's important in enabling top performance."
—Mike Beyerlein, professor, Organizational Leadership, Purdue University
See More
List of Tables, Case Studies, Figures, and Exhibits.
Acknowledgments.
Foreword.
Introduction.
SECTION ONE: Building High-Performing Virtual Teams.
Chapter One: Why Virtual Teams Fail.
Key Challenges.
Four Pitfalls to Virtual Team Performance.
Conclusion.
Chapter Two: Profiles of Virtual Team Success—What Good Looks Like.
Team Composition.
Communication and Training.
Leadership.
Conclusion.
Chapter Three: Virtual Team Launch Kit.
Test Your Virtual Team Launch IQ.
Setting Virtual Teams Up for Success.
Is Your Organization Prepared to Support Virtual Team Work?
Conclusion.
Chapter Four: What Differentiates Great Virtual Teams—How to RAMP Up Your Team's Performance.
What Differentiates Top Virtual Teams?
The ShingleSeal Standstill: How Would You Handle It?
RAMP Up Virtual Team Performance.
Conclusion.
SECTION TWO: Leading Virtual Teams.
Chapter Five: How to Lead Virtual Teams—Tips, Techniques, and Best Practices for High Performance.
Challenges Virtual Team Leaders Face.
Raygen Company Slump: How Would You Handle It?
Virtual Team Leadership Self-Assessment.
What Makes an Effective Virtual Team Leader?
Obstacles at a Glance: A Quick Reference Guide.
Conclusion.
Chapter Six: What Factors Really Accelerate Virtual Team. Performance—The Four Top Performance Boosters.
Taking Virtual Team Performance to the Next Level.
Conclusion.
Chapter Seven: Facilitating High-Impact Virtual Meetings—Techniques. That Really Work.
The Facilitator's Role.
V-Meeting Checklist.
Building a V-Meeting Agenda.
Keeping Virtual Meetings on Track.
Dealing with Other Common Challenges.
Conclusion.
Conclusion: Six Lessons for Successful Virtual Teams.
Lesson 1: Focus on People Issues.
Lesson 2: No Trust, No Team.
Lesson 3: "Soft" Skills are Essential.
Lesson 4: Watch Out For Performance Peaks.
Lesson 5: Create a "High-Touch" Environment.
Lesson 6: Virtual Team Leadership Matters.
Closing Thoughts.
Appendix: OnPoint's Global Virtual Team Study.
Notes.
About the Authors.
Index.
See More
Darleen DeRosa, Ph.D., is a managing partner at OnPoint Consulting. She brings ten years of management consulting experience, with expertise in the areas of talent/succession management, executive assessment, virtual teams, and organizational assessment. Darleen has authored numerous articles on virtual teams.
Richard Lepsinger is president of OnPoint Consulting and has a twenty-year track record of success as a human resource consultant and executive. He is the coauthor of four books on leadership including Closing the Execution Gap: How Great Leaders and Their Companies Get Results, Flexible Leadership: Creating Value by Balancing Multiple Challenges and Choices, The Art and Science of 360? Feedback, and The Art and Science of Competency Models, all from Jossey-Bass/Pfeiffer.
See More