The Art of Vulture Investing: Adventures in Distressed Securities Management
ISBN: 978-0-470-87264-2
224 pages
September 2012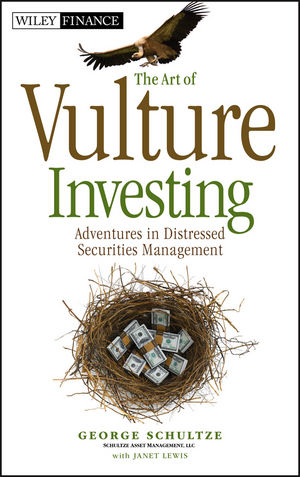 A detailed and compelling look at distressed securities investing in today's market
In the corporate world, "vulture" investors in distressed securities serve the same cleanup function as vultures do in the natural world: they deal with failing companies, digest bad debt, and mop up after bankruptcies. Since this market's structural and legal complexities create greater inefficiencies than in other investment fields, it's a style of investing that can make money during both booms and busts. While recent economic carnage has made opportunities for vulture investors, more convoluted bankruptcies, conflicts of interest, and even government intervention have made this arena harder to negotiate.
Nobody understands this better than author George Schultze, founder of Schultze Asset Management. During his successful career as a vulture investor, he's learned a number of lessons and developed an investment philosophy that has served him well. Now, in The Art of Vulture Investing, Schultze shares his valuable insights and experiences with you. Engaging and informative, this reliable guide offers a bird's-eye into the opportunities and risks associated with vulture investing. And while it may not always be pretty, you'll see exactly why this process is necessary for our economic ecosystem.
Throughout this book, Schultze explains the theory and strategy of vulture investing in clear and lively prose, illustrating each concept with examples from his own varied experience that show how the landscape has changed in recent years.
Offers valuable information on distressed securities investing since the 2007-2009 financial crisis
Examines the opportunities and dilemmas for modern vulture investors
Includes in-depth case studies of high-profile bankruptcies, including those of Chrysler Automotive and Tropicana Casinos and Resorts
By its very nature, investing in distressed companies can be a complicated  and risky business. But once the dust settles, these investments can yield extraordinary profits. The Art of Vulture Investing puts this discipline in perspective and shows you how to excel at this difficult, yet rewarding, endeavor.
See More
Foreword ix
Acknowledgments xi
Preface xiii
CHAPTER 1 Emerging from the Egg 1
CHAPTER 2 Learning to Scavenge 17
CHAPTER 3 Looking for Prey 39
CHAPTER 4 Waiting On a Limb 63
CHAPTER 5 Swooping In: Tropicana 73
CHAPTER 6 Fighting Over the Carcass: Chrysler 95
CHAPTER 7 Digesting the Remains 115
CHAPTER 8 A Vulture's Philosophy 131
APPENDIX 1 Net Operating Loss Carry Forwards 139
APPENDIX 2 Copy of Continued Objection by Ad Hoc Committee of Washington Group Class 7 Claim Holders 141
APPENDIX 3 Letter to Washington Group's Board of Directors 153
APPENDIX 4 Shareholder Complaint against Winn-Dixie Board et al. 157
APPENDIX 5 Objection by Schultze Asset Management to Owens Corning Disclosure Statement
About the Authors 185
Index 189
See More
September 04, 2012
The Art of Vulture Investing: Adventures in Distressed Securities Management
Connect with Wiley Publicity
Investing in distressed securities/financially troubled credits is an approach that contains both great risk and opportunity. Occurrences from the recent credit crisis have changed this playing field immensely, not so much in terms of actual laws being revised but in the government's larger role. What are the repercussions of the crisis and its bailouts on lending to financially troubled companies? Do the same approaches that have been used for over sixty years still hold true or have some of the rules changed? The Art of Vulture Investing will answer these, and many other, important questions.
An expert in the field distressed investing, author George Schultze understands the risks and opportunities of investing in financially troubled companies, especially in the wake of a shaken credit industry and sizeable government bailouts. Now, in The Art of Vulture Investing, he shares his extensive insights and expertise with you. Throughout this book, he skillfully discusses distressed security investing theory and strategy, while presenting current examples in order to reveal how the landscape has changed in recent years.
Offers valuable information on post-financial crisis distressed security investing
Examines the opportunities and dilemmas of the modern portfolio manager who invests in distressed securities
Includes in-depth case studies of Chrysler and Tropicana
If you're looking to enhance your understanding of the distressed investing discipline, this book is the best place to start.
See More
Learn more about