E-book
Cracking Your Church's Culture Code: Seven Keys to Unleashing Vision and Inspiration
ISBN: 978-0-470-87297-0
224 pages
September 2010, Jossey-Bass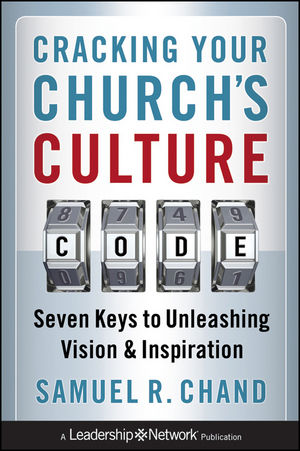 Strategies for transforming a toxic church culture
Why is it that the best strategic plans and good leadership often are not able to move churches in the desired direction? Sam Chand contends that toxic culture is to blame. Quite often, leaders don't sense the toxicity, but it poisons their relationships and derails their vision. This work describes five easily identifiable categories of church culture (inspiring-accepting-stagnant-discouraging-toxic), with diagnostic descriptions in the book and a separate online assessment tool. The reader will be able to identify strengths and needs of their church's culture, and then apply practical strategies (communication, control and authority, selection and placement of personnel, etc.) to make their church's culture more positive.
Discusses how to diagnose the state of a church's culture
Reveals what it takes to put in place effective strategies for creating a more positive church culture
Author served on the board of EQUIP (Dr. John Maxwell's Ministry), equipping five million leaders world-wide.
This important book offers a clear guide for understanding and recreating a healthy church culture.
See More
1 Culture Trumps Vision.
2 Culture Killers.
3 Seven Keys of Culture.
4 Vocabulary Defines Culture.
5 Change Starts with Me.
6 The Catalyst of Chaos.
7 Changing Vehicles.
8 Yes, You Can!
Appendix A: Strategic Planning Grid.
Appendix B: To-Do List and Status Report for Major Items.
Endnotes.
The Author.
Resources.
See More
Dr. Samuel Chand speaks regularly at leadership conferences, churches, corporations, ministerial conferences, seminars and other leadership development opportunities. He was named in the list of the Top 30 Global Leadership Gurus by www.leadershipgurus.net. Dr. Chand serves on the board of EQUIP (Dr. John Maxwell's ministry), working with five million leaders worldwide, and assists Bishop Eddie L. Long's leadership development team.
See More
More in this series