E-book
Creating a Sense of Presence in Online Teaching: How to "Be There" for Distance Learners
ISBN: 978-0-470-87311-3
160 pages
August 2010, Jossey-Bass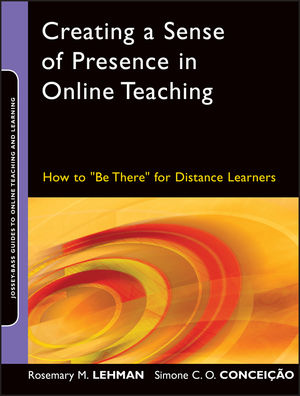 How can faculty create a strong e presence for their online classes? This volume highlights the need for creating a presence in the online environment. The authors explore the emotional, psychological, and social aspects from both the instructor and student perspective. It provides an instructional design framework and shows how a strong presence contributes to effective teaching and learning. Filled with illustrative examples and based on research and experience, the book contains methods, case scenarios, and activities for creating, maintaining, and evaluating presence throughout the cycle of an online course.
See More
List of Figures, Exhibits, and Tables v
Preface vii
About the Authors xiii
ONE The Role of Presence in the Online Environment 1
Why Is It Important to Understand Presence? 2
Creating a Sense of Presence 3
What We Know About Presence 4
Presence as the Result of Our Perceptual Process 6
Understanding Presence 7
Summary 12
TWO Ways in Which Presence Can Be Experienced 13
Types of Experience 15
Modes of Presence 18
Dimensions of the Learner 20
The Being There for the Online Learner Model 21
Summary 24
THREE Designing Your Online Course with a Sense of Presence 25
Determinants of Presence 26
Framework for Designing Online Courses with a Sense of Presence 30
Getting Yourself "There" for Your Online Course 37
Getting Your Learners "There" for Your Online Course 40
Summary 41
FOUR Activities That Create a Sense of Presence in Your Online Course 43
Before the Course Begins 45
During the Online Course 65
End of the Course 77
How to Know If Presence Is "There" in Your Online Course 84
Summary 93
FIVE Are You Here or There? Making Sense of Presence 95
Case 1. Getting to Know You and Your Course 95
Case 2. Second Life Participation and Blogging 99
Case 3. Creating a Web-Based Training Course as a Team 104
Creating a Syllabus with a Sense of Presence 109
Final Thoughts and Future Directions 109
Appendix 1: Training Resources 113
Appendix 2: Online Course Design Resources 115
Appendix 3: Sample Syllabus 117
Definitions of Terms 129
References 133
Index 137
See More
Rosemary M. Lehman
is a partner in eInterface with twenty years of experience at Instructional Communications Systems, University of Wisconsin-Extension where she was a distance education specialist and led the Learning Design and Outreach Team. She is coauthor of
147 Practical Tips for Synchronous and Blended Technology Teaching and Learning
.
Simone C. O. Conceição is an associate professor in the School of Education, Department of Administrative Leadership, at University of Wisconsin-Milwaukee and the editor of Teaching Strategies in the Online Environment from Jossey-Bass and coauthor of 147 Practical Tips for Teaching Online Groups: Essentials of Web-Based Education.
See More
Learn more about