Textbook
Architectural Graphic Standards 11 Edition Student Edition with Landscape Graphic Standards Student Edition Set
ISBN: 978-0-470-87343-4
1136 pages
March 2010, ©2008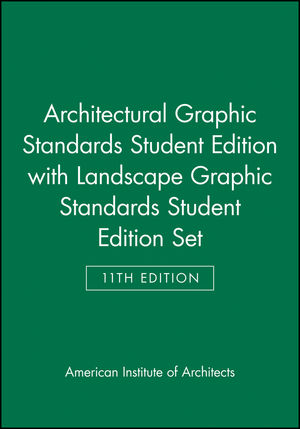 The new student edition of the definitive architectural reference
For seventy-five years, Architectural Graphic Standards has been the go-to reference for architects, builders, and engineers. Revised for the first time since 2000, Architectural Graphic Standards, Student Edition gives students their own handy resource.
Carefully abridged from the Eleventh Edition of Architectural Graphic Standards, this Student Edition features the same richly detailed graphics and text that have made Architectural Graphic Standards a classic, but updated and reorganized in a way that is relevant to today's student. Thousands of illustrations and a rich index offer immediate access to hundreds of architectural elements, while the wide variety of topics covered makes this work relevant throughout a student's architecture education and into the early stages of professional practice.
With a wealth of information for the student preparing for professional practice, this new edition:
Covers building standards and practices, materials and systems, and details for every type of project
Follows CSI's Uniformat, a classification system that closely matches an architect's workflow
Features completely updated content with a wide variety of standard architectural details
Offers an ancillary Web site featuring sample curriculums, student exercises, classroom projects, PowerPoint(r) slides, and more
The new student edition of the definitive reference on landscape architecture
Landscape Architectural Graphic Standards, Student Edition is a condensed treatment of the authoritative Landscape Architectural Graphic Standards, Professional Edition. Designed to give students the critical information they require, this is an essential reference for anyone studying landscape architecture and design.
Formatted to meet the serious student's needs, the content in this Student Edition reflects topics covered in accredited landscape architectural programs, making it an excellent choice for a required text in landscape architecture, landscape design, horticulture, architecture, and planning and urban design programs. Students will gain an understanding of all the critical material they need for the core classes required by all curriculums, including:
Construction documentation
Site planning
Professional practice
Site grading and earthwork
Construction principles
Water supply and management
Pavement and structures in the landscape
Parks and recreational spaces
Soils, asphalt, concrete, masonry, metals, wood, and recreational surfaces
Evaluating the environmental and human health impacts of materials
Like Landscape Architectural Graphic Standards, this Student Edition provides essential specification and detailing information on the fundamentals of landscape architecture, including sustainable design principles, planting (including green roofs), stormwater management, and wetlands constuction and evaluation. In addition, expert advice guides readers through important considerations such as material life cycle analysis, environmental impacts, site security, hazard control, environmental restoration and remediation, and accessibility.
Visit the Companion web site: wiley.com/go/landscapearchitecturalgraphicstandards
See More