Textbook
Human Resources Management for Health Care Organizations: A Strategic Approach
ISBN: 978-0-470-87355-7
448 pages
January 2012, ©2012, Jossey-Bass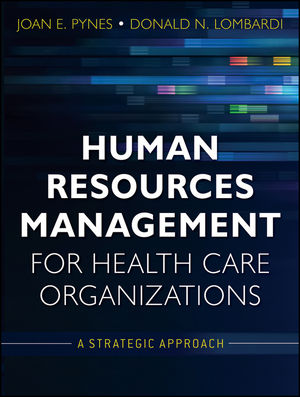 This book is a comprehensive guide to the essential areas of health care human resources management, and is an immediately useful practical handbook for practitioners as well as a textbook for use health care management programs. Written by the authors of Handbook for the New Health Care Manager and Human Resources Management for Public and Nonprofit Organizations, the book covers the context of human resources management in the unique health care business arena from a strategic perspective includes SHRM and human resources planning, organizational culture and assessment, and the legal environment of human resources management. Managing volunteers and job analysis perfor­mance appraisal instruments, training and development programs, and recruitment, targeted selection and hiring techniques are covered. Compensation poli­cies and practices, employer-provided benefits management, implementation of training and organizational development programs, as well as labor-management relations for health care organizations and healthcare human resource information technology are covered, with practical examples and proven strategies amply provided in each chapter.
See More
Preface xv
The Authors xxi
PART ONE Human Resources Management in the Health Care Business Arena
Chapter 1: Introduction to Health Care Human Resources Management 3
Defining Elements of Progressive Health Care Organizations 4
Current Perceptions of Health Care Organizations 7
Spheres of Influence Model 9
Five Significant Change Dynamics of Modern Health Care 12
Profile of a Progressive Health Care Organization 22
Composition of a Progressive Health Care Human Resources Management Department 27
Chapter 2: Strategic Health Care Human Resources Management and Planning 31
The Changing Role of Human Resources Management 32
Human Resources Outsourcing 35
Strategic Human Resources Management and Human Resources Planning 36
Anticipating Future Needs 38
Evaluating the Effectiveness of Strategic Human Resources Management 42
Problems and Implications of Strategic Human Resources Management 44
Chapter 3: Organizational Culture Standards for Health Care Human Resources 49
Performance Matrix of Superstars, Steadies, and Nonplayers 50
PACT Formula 54
Strategic Requirements for a Progressive Health Care Human Resources Management Department 74
Chapter 4: Equal Employment Opportunity Laws and Health Care Human Resources Management 83
Federal Equal Employment Opportunity Laws 84
Proving Employment Discrimination 96
Affirmative Action: Executive Orders and Other Federal Laws 98
Constitutional Rights 102
Additional Protections for Employees 109
Chapter 5: Managing the Unique Health Care Workforce 115
Cultural Factors Relevant to Health Care Human Resources 122
Practical Application: A Tale of Two Jersey Cultures 129
Chapter 6: The Importance of Volunteers in Health Care Organizations 135
Selection and Placement Strategy Considerations for Volunteers 136
Maximizing Health Care Volunteer Performance 143
Agenda Topics for Volunteer Summits 148
Ten Essential Rules for Volunteer Placement 150
PART TWO Methods and Accountabilities of Health Care Human Resources
Chapter 7: Critical Job Analysis and Design 155
Legal Significance of Job Analysis 157
Job Analysis Information 158
Designing a Job Analysis Program 163
Job Descriptions and Job Specifications 164
Competency Modeling 168
Job Analysis Techniques 170
Chapter 8: Recruitment, Interviewing, and Selection Strategies 177
Preselection Process 178
Critical Dimensions of External Recruitment 195
Preparing and Planning for the Interview 198
Conducting the Interview 199
Evaluating the Interview 204
Chapter 9: Maximizing Performance Management and Evaluation 209
Developing an Evaluation Program 210
Using Defusers—the Return to Objectivity Formula 241
Chapter 10: Compensation Strategies 247
Motivation 248
Equity 253
Executive Compensation and Benefits 265
Federal Laws Governing Compensation 267
Chapter 11: Benefits 271
Government Required Benefits 272
Discretionary Benefits 276
Quality-of-Work and Quality-of-Life Issues 282
PART THREE Maximizing Health Care Human Resources
Chapter 12: Training and Development 289
Needs Assessment 291
Developing Training Objectives 293
Developing the Curriculum 294
Delivering Training 302
Evaluating Training 303
Career Development 306
Health Care Training and Development in Application 308
Relevant and Resonant Health Care Organizational Training and Development 310
Chapter 13: Organizational Development Strategies 319
Essential Objectives of Health Care Organizational Development 319
Organizational Development Strategies for Building Pride 329
Organizational Development Strategies for Escalating Accountability 338
Organizational Development Strategies for Team Building 344
Chapter 14: Labor-Management Relations 353
Collective Bargaining in the Private Sector 354
Collective Bargaining in Health Care Organizations 355
Collective Bargaining in Federal Government Agencies 358
Collective Bargaining in State and Local Government Agencies 359
Concepts and Practices of Collective Bargaining 360
Chapter 15: Strategic Health Care Human Resources Technology 377
Information Systems Technology 378
Organizational Change 380
Types of Information Systems 381
Human Resources Information Systems 384
Bibliography 393
Index 409
See More
Joan E. Pynes is Professor of Public Administration in the Department of Government and International Affairs at the University of South Florida. She received her bachelor's degree in public justice from SUNY Oswego and her PhD in public administration from Florida Atlantic University. She is the author or co-author of five books, most recently Effective Nonprofit Management: Context and Environment and Human Resources Management for Public and Nonprofit Organizations: A Strategic Approach, Third Edition. She has written or co-written more than fifty academic articles, book chapters, technical reports, and encyclopedia entries about public and nonprofit human resources management.
Donald N. Lombardi is Industry Professor of Healthcare, director of the Stevens Healthcare Educational Partnership, and academic director of the Veterans Office at Stevens Institute of Technology in Hoboken, New Jersey. He has consulted to more than 170 health care organizations in all 50 states and ten foreign countries, has developed seven accreditation programs for the American College of Healthcare Executives since 1986, and has written eleven books, including Handbook for the New Health Care Manager. Dr. Lombardi holds more than fifty U.S. copyrights on organizational planning, management, and development systems for text, on-site, and on-line delivery.
See More
Instructors Resources
Request a print evaluation copy
Contact us

Contact your Wiley Representative
Find Your Rep

See More
See Less
Learn more about