Resumes For Dummies, 6th Edition
ISBN: 978-0-470-87361-8
384 pages
February 2011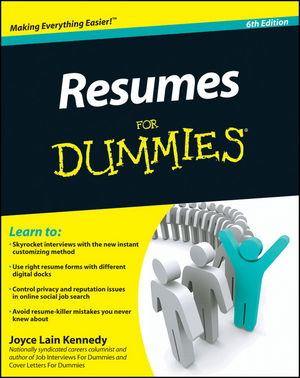 Write a winning resume and land that job interview!
Is your job search stalling out after you submit a resume but before you're offered an interview? With a recession that has caused a 10% unemployment rate affecting 15.3 million Americans, having a winning resume is vital to securing an interview-and it demands a fresh look at how you write your resumes and market yourself.
Whether you're entering the job market for the first time, looking for a new job after a lay off, or changing careers, Resumes For Dummies shows you the ropes and rules for a new era in recruiting and jobsearching.
Instructions for writing an inclusive core resume
Tips on targeting a known position, or tailoring a resume to specific industries
Common resume-writing mistakes to avoid
Updated with the latest information on privacy issues in the electronic age, Resumes For Dummies is your go-to guide for getting your foot in the door.
See More
Introduction.
Part I: Visiting the World of Resumes, Today and Tomorrow.
Chapter 1: Digital Age Changes Job Chase.
Chapter 2: Finding Your Next Job in the Wide World of Social Media.
Chapter 3: Going Mobile: Resumes on Smartphones and Tablets.
Chapter 4: Familiar Search Tools That Haven't Gone Away.
Chapter 5: Do Due Diligence, Ditch Digital Dirt.
Part II: Customizing Resumes: Your Many Faces in Many Places.
Chapter 6: Target! The Generic Resume Has Nearly Dropped Dead.
Chapter 7: Chart a Cool Course to the Right Jobs.
Chapter 8: Content Makes the OnTarget Difference.
Part III: Resume Basics That Wow 'Em Every Time.
Chapter 9: Creating Your Best Resume.
Chapter 10: Wow Words Work Wonders.
Chapter 11: Refi ne Your Design for Great Looks.
Chapter 12: Passages: Resumes for Your Life's Changing Phases.
Chapter 13: Successful Solutions to Resume Problems.
Part IV: Bringing It All Together: Sample Resumes.
Chapter 14: A Sampling of OnTarget Resumes by Industry and Career Field.
Chapter 15: A Sampling of OnTarget Resumes by Experience Level and Age.
Chapter 16: A Sampling of OnTarget Resumes for Special Circumstances.
Chapter 17: A Sampling of Extreme Resume Makeovers.
Part V: The Part of Tens.
Chapter 18: Ten (×3) Ways to Prove Your Claims.
Chapter 19: Ten Ways to Improve Your Resume.
Chapter 20: Ten Tips for Choosing Professional Resume Help.
Chapter 21: Your Ten-Point Resume Checklist.
Index.
See More
Joyce Lain Kennedy is the nationally syndicated career columnist of Careers Now, which appears twice weekly in newspapers and on Web sites across the U.S. She is the author of award-winning books, including Job Interviews For Dummies and Cover Letters For Dummies.
See More